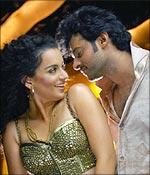 Expectations were high for the Puri Jagannadh-Prabhas Telugu film Ek Niranjan. This is Puri's first release of this year. Unfortunately, the film does not live up to the expectations.

Puri scripts a story around a lost-and-found son -- a common theme many decades ago. And even if it has been shown with plenty of songs and stylish action, it is still the same old wine!

As a child, Chotu (Prabhas) is separated from his family and picked up by Chidambaram (Makarand Deshpande). Chidambaram makes him beg. But one day, Chotu helps the police catch Chidambaram, and is given a rupee for the act. This makes Chotu realise that he can earn money by catching criminals for the police. And that's what he does.

He runs into Sameera (Kangna Ranaut), who is a guitar teacher but hardly plays the guitar. She just has a bunch of kids vouching for her. Her brother -- whom Chotu is after -- works with Johnnybhai (Sonu Sood).
Chotu and Sameera fall in love. But there is Johnnybhai to contend with, as well as an aspiring minister (Posani).

Puri tries to earnestly build up a deft screenplay with a wafer-thin story (which is increasingly becoming his trademark). But the clichéd plot falls flat despite all the technical gimmicks (fights and all) and attempts to prop it up. The less said of the comedy, the better. It's so inane and makes one wonder if it was necessary to insert the mindless scenes at all. Even Johnnybhai's character was rather queer in depiction.

Prabhas is effortless as Chotu -- beating up people and romancing Sameera in Switzerland. He acts well and the movie is watchable for him although he has developed a similar style in all his films. An image change may do him good.

Kangna's Telugu debut can't be really raved about. She looks pretty but as far as performance goes, there's nothing much to write about as the script doesn't have anything for her to showcase her acting skills.

Sonu Sood, a constant in Puri's films, plays the villain with panache. Makarand Deshpande can perhaps be asked why he did the role as it didn't demand someone of his calibre to play it. One feels sorry for the comedians Brahmanandam, Venu Madhav, Ali and Sunil who are good actors but given some absurd parts to play.

Technically, Puri ensures that the film is in place. Shyam K Naidu's camerawork was in sync. Mani Sharma's music can be heard and 'seen' on screen. Stun Siva's orchestration of fights in some parts is stylish.

Making a slick film is easy but filling it with content is important; the latter is where Puri seems to have lost out. It is high time he takes stock of the situation and comes out of the Pokiri mould.

Rediff Rating: