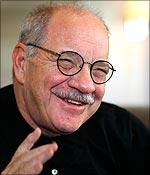 On his visit to Mumbai as a jury member for the ongoing Mumbai Film Festival, noted Hollywood scriptwriter Paul Schrader (Taxi Driver, Raging Bull) said that it was about time the city got its own international film festival like MAMI.
"Mumbai is one of the international capitals of cinema. It is about time they have an international quality festival," Schrader said.
Started in 1997, MAMI completes 11 years this year, and has a big corporate group like Reliance Entertainment giving it a much-needed boost.
Has the perception of the West changed towards the Indian film industry after the huge success of Slumdog Millionaire? "Not much," Schrader explains. "It has made people aware about Mumbai but I will not call it a trend. There is an interest in India but that has always been there. Great western directors have been making films in India for the last 40 years. It's not that  Danny Boyle discovered it.
"Last Diwali, I had worked on a script with (writer, Om Shanti Om) Mushtaq Shaikh and (director, Dus, Cash) Anubhav Sinha. I am happy to be here again and re-establish the contacts," said Schrader. He claims that the film is now in the casting stage.
Schrader claims that big scripts do not ail Bollywood alone. "That is true of movies everywhere," he says. "Bollywood films are weak like all films. But I don't think America will finance a film like New York any more."
Photograph: Bob Strong/ Reuters