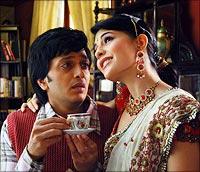 Be careful what you name your child. One wrong name and his/her life can turn into a living hell for the longest time to come. Remember the never-ending ridicule Chironjilal Khosla (Khosla Ka Ghosla) had to encounter?
Aladin, spelled without the more familiar double D, too suffers a worse fate what with kids bullying him into rubbing lamps. Turns out it wasn't such a bad idea after all when Aladin truly rubs one and pop comes a wish-granting genie, Genius (Amitabh Bachcan). Three good-as-new wishes would end in a happily-ever-after, you'd think?
If only Sujoy Ghosh's contemporary take of the popular Arabian fantasy was this uncomplicated. Instead a flawed narrative lays out a lot of plots but doesn't present any subtext to convince or justify the same. Like the entire fuss about a power-lending comet, a hostile circus troupe or the on-going rivalry between two genies, there's a hint of an untold back-story which remains, well, untold.
Breaking from the fairy-tale's original plot, Ghosh inserts a whole lot of elements which, unfortunately, rob the film of its charm, wizardry and mystique. For one, Aladin (Riteish Deshmukh) is no street urchin but a lanky college-lad who loses his parents at an early age under mysterious circumstances. He lives in the imaginary city of Khwaish (which bears resemblance to Lord of the Ring's Minas Tirith) -- somewhere above North India and below China, we are told. And when not a butt of class bully Qasim's (Sahil Khan) ruthless albeit repetitive jokes, he's often found at Marjina's (Ratna Pathak) cafe.
In a Disney animation, such parts are essayed by the likes of Beauty and the Beast's Gaston and Mrs Potts. They along with a bunch of spunky monkeys, all-knowing birds and talking trees are known to provide the mandatory laughs. Aladin, however, only has a bird-brained performance of Sahil Khan and shamelessly wasted Ratna Pathak Shah to offer.
There's some respite after Big B's Genius makes his entry with a rather lame jig only to follow it with yet another musical. Behind the look that appears to be a cross between V (V for Vendetta) and Vijay Mallya (the entrepreneur), speaks the man you've grown to love, adore and forgive for an average performance.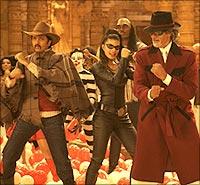 His young co-stars Riteish Deshmukh and newcomer Jacqueline Fernandes do well for themselves. Deshmukh lends his Aladin a touch of earnest and goofy, which makes him believable even if not someone you care to root for. Sri Lankan beauty Jacqueline exudes a ravishing screen-presence that has the potential to be honed into something along the lines of Katrina Kaif.
Aladdin revolved around greed, ambition and both -- misuse and bonus of magic. But the manner in which its modern-day avatar goes about squandering his three wishes suggests either he's really daft or completely disenchanted towards magic.
The only thing that grabs Aladin's undivided attention is the hot new college girl, Jasmine (Jacqueline). As seen in a million Bollywood flicks, she steps out of her car, flashes a charismatic smile and our hero falls head over heels in love. Barring one funny first date sequence, their chemistry lacks the loveliness of a Once upon a time...
A spate of songs, after every few minutes, doesn't help either. Not only do these Vishal-Shekhar creations break the momentum but their picturisation leaves a lot to be desired. Especially O re Saawariya, which is nothing more than an extension of Big B's Navratan tel commercial, also shot by Ghosh.
There are moments where you are fooled into believing great action lies ahead. That's where Sanjay Dutt (Dutt doing a evil Munnabhai in Mandrake's costume) as the vicious Ringmaster, a comic villain comes in the picture along with his motley crew of a masked flame thrower, a cackling clown, a bald knife thrower and a menacing killer giant. What initially sparks off your interest is later reduced to a groan-inducing exercise in cheesy narcism and humour -- 'Tum ho to ball ke liye free passes milenge' or 'Yo brother, genie years main abhi teenager hoon'.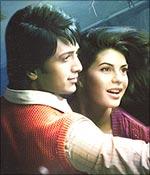 Considering its fantasy genre, the visuals do not inspire awe but are quite alright, which is better than tacky any day. While Sabu Cyril's art design inspired by the architecture of Cambridge, Rome, Egypt and Konark deserves a pat on the back, Sirsha Ray's cinematography disappoints with its conventional angles, lighting and overdose of close-ups.
A subject like this calls in for spectacular imagery laced with wonder and intrigue. And so one expects the battle between two ancient genies in the climax to be much more than standard dishoom-dishoom.
What Ghosh dishes out in its place is some half-hearted hocus-pocus, a clumsy mix of old world lore with contemporary indifference, sloppy trips to the flashback and awkward bursts of forced sentimentality.
Make a wish, Genius insists. Too late for that, isn't it?
Rediff Rating: