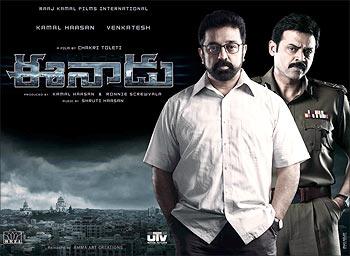 Kamal Haasan has just begun his golden jubilee year in films. The actor who wears various hats as director and producer was in Hyderabad to release the poster of his film Eenadu (the Telugu remake of the Hindi film A Wednesday) at a grand function.
The venue, a five-star hotel, was packed with luminaries like producer Rama Naidu, filmmaker Dasari Narayan Rao, actor Venkatesh, filmmaker Parachuri Venkateswara Rao, director Srinu Vytla, Neelakantha (the dialogue writer for Eenadu) and young debutant director of Eenadu Chakri, Toleti. 
Showers of praises were heaped on Kamal by Dasari (who went to the extent of saying if he was younger, he would have touched Kamal's feet for his great talent) and Rama Naidu (who spoke of his long association with the actor).
Venkatesh who acts in Eenadu as the police officer said he is inspired by Kamal and his films. "When I have to do an emotional scene, Kamal is a reference point for me. If you're feeling low, a Kamal movie will make you feel happy," he said.
As for Kamal, he said that it's time to move on and do different films. "It's (Eenadu) a sincere and honest film. I was supposed to do an important role in Marmayogi but that fell through. I was a little hesitant because I had to do the same role in both Tamil and Telugu. But I am happy I did Eenadu.
"I am happy Venkatesh accepted the film as I wanted him to do it. Our association goes way back and I chose Chakri as director not because I knew his father but because of Chakri's qualifications. The same with Shruti, who was selected as music director on account of her qualifications," said Kamal.
Parachuri Venkateswara Rao spoke of how they had made Eenadu, a film in the 1980s with superstar Krishna. The film was a satire on the political conditions then.
Text: Radhika Rajamani