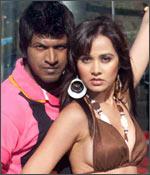 Kannada film
Raaj, The Showman
continues to make news even after its release what with a spate of police complaints, threat of law suits and failure to meet the high expectations it had.
The film had created a lot of hype and hoopla before its release, thanks to publicity stunts by director Prem. But now, the film's supporters are expressing their frustration about the lack of story content. While the technicians have fared exceedingly well, Prem has failed to deliver the goods.
The simultaneous release of the film abroad raked up quite a controversy. Though Prem claimed it would release in 12 countries, the film did not release even in USA and Singapore, where Kannada movies have been released before.
In a press conference, Prem had threatened to sue Dr Kiran Totambittu, who had acquired the overseas rights of
Raaj
.
Later, Dr Totambittu lodged a police complaint that his life was in danger, as he was receiving threatening calls. He also called a press conference to state that people abroad were not interested in
Raaj, The Showman
and that many overseas distributors had backed out.
"There was no written agreement between the producer and me to release the movie," he said. "Prem has made false accusations and I will file a defamation suit against him."
Raaj, The Showman
will soon be released abroad by a corporate company called Bevin Exports India (P) Ltd. 
According to a press release, the film will be released in Singapore on September 27 and subsequently in Australia on October 4. The film will then travel to New Zealand, USA, Dubai, Malaysia, UK and South Africa. The release dates for these countries have not been fixed yet. The company has earlier released Kannada films Abhi, Akash, Mungarumale, Galipata and Rama Shama Bhama abroad.