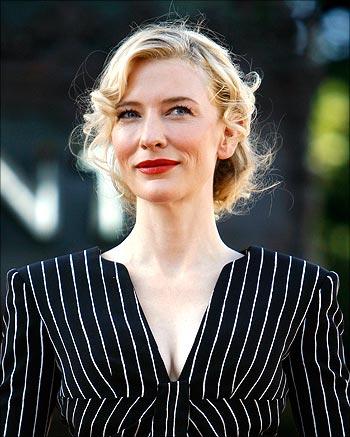 Cate Blanchett suffered a head injury while she was on stage during a theatre production in Sydney.
The Oscar-winning Australian actress was left bleeding after she was accidentally hit on the head during Wednesday night's preview performance for the Tennessee Williams play A Streetcar Named Desire for the Sydney Theatre Company (STC).
According to a Times Online report, Cate's co-star Joel Edgerton, playing Stanley Kowalski, the part famously immortalised by Marlon Brando in the 1951 film version accidentally struck the actress with a prop radio.
'He [co-star Edgerton] was supposed to throw it [the radio] out the window, but it sort of slipped and her hear in the head … she was so good, she just went straight on,' the report quoted a witness as saying.
Another witness said Blanchett had "blood streaming down the back of her head" but continued to perform the scene.
The actress left the stage minutes later and the production was promptly cancelled by theatre staff.
Tim McKeough, a spokesman for the STC, also told Times Online that he had spoken to Blanchett and that "she is fine".
Photograph: Mario Anzuoni/Reuters