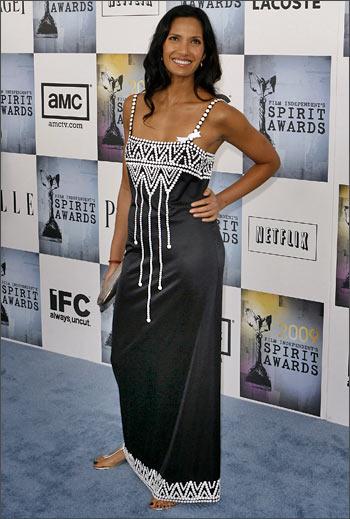 Padma Lakshmi is back to alluring television watchers, now that the sixth season of Bravo's hit food reality show Top Chef is on air.
But while the model, chef and bestselling cookbook writer is really going places, she is yet to hear from filmmaker Deepa Mehta. Some people believe she may never get that call.
Over two years ago, Mehta had said she wanted to cast Lakshmi in her epic project The Exclusion, about the fate of the doomed Indian passengers on the ship Komagata Maru who were not allowed into Canada in the early part of the last century because of racism.
'She [Lakshmi] may not look a typical Punjabi woman but I want to cast her,' Mehta had said. 'Her eyes speak a volume.'
Lakshmi has acted in half a dozen films including The Mistress of Spices. One reason Mehta may not want to have Lakshmi in the movie is because of the director's close friendship with Lakshmi's former husband, writer Salman Rushdie. The two are working on turning Rushdie's novel Midnight's Children into a movie, with Mehta directing it. If the happy times had continued for Lakshmi and Rushdie, she might have found parts in both films!
But there are many things to keep her happy. The New York Times recently ran a story on her fighting to stay trim. She has to eat quite a bit of food each week because of Top Chef since she is also a judge on it, she said.
Each season Lakshmi, 38, keeps two dress sizes on the set for when the weight starts to pile on, The Times added: she is 5-foot-9 and typically she puts on 10 to 15 pounds a season.
"In my job, I eat the most when I'm working the most," she told India Abroad. "I like eating a lot of spicy Indian food but I also try to burn out quite a bit spending hours in a gym week after week. I succeed most of the time."
Speaking of Top Chef, there's a desi girl on the new season. San Francisco's Preeti Mistry, 33, is as an executive chef for the Bon Appetit Management Company at Google's headquarters.
Her profile on the show's Web site says, 'Born in London and raised in the US, Preeti's Indian culture, extensive international travel, classic French culinary training and access to the best local California ingredients inspire her cooking.'
Text: Arthur J Pais | Image: Actress Padma Lakshmi | Photograph: Lucas Jackson/Reuters