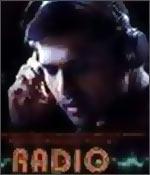 It is Himesh Vs Himesh in this one.
Here is an album where Himesh Reshammiya the composer outshines Reshammiya the singer. As the former, he packs in quite a few pleasant surprises. As a singer, he bites off more than he can chew.
To give credit where it is due, Reshammiya tries a new approach in Radio. Gone are the rhythm-heavy arrangements, sample sounds, loops and club mixes. Instead, there is an unmistakeable focus on melody, with a new fondness for soft, elaborate compositions.
The first one, Mann Ka Radio, is a strange number however, with inane lyrics that nullify an interesting composition. Wonder what lyricist Subrat Sinha was thinking when he came up with such lines:
Mann ka radio/bajne de zara 
Gham ko bhul kar/ jee le tu zara
Station koi naya/tune kar le zara
Fultoo attitude/dede tu zara
 
Obviously close to the composer's heart, as the same appears as a remix later.
However things begin to look up with Zindagi jaise ek radio (Himesh and Aditi) which is a robust Bhangra fusion track. This is quite a likeable song (if you are okay with the lyrics), making its comeback as a remix at the end of the album.
Move to Jaaneman, a romantic number where Reshammiya tries to do a Pankaj Udhas. Not that he is the perfect role model, but the arrangement, melody and lyrics seem to be heavily influenced by the veteran singer's genre of watered-down pop ghazals and geets. Reshammiya's diction however is inconsistent, as his wafer thin voice struggles to get the harkats in the bass sections right. This is a duet with Shreya Ghoshal who gets a high-pitched introduction, making her voice sound curiously synthetic.   
As you struggle to make sense of this reasonably good song and average singing, you'll be amply rewarded for your efforts with Piya jaise ladoo motichur wale. This is a little gem by Rekha Bhardwaj, who is deliciously pungent in this thumri-based song. Aided by a shahnai and sarangi-led arrangement, she gets the expression just right for this loving-longing number. If only Reshammiya did not lend his voice here.
The trail of good compositions continues with Koi na koi chahe, which is a simple melody, driven by guitar, tabla and finger clicking. Reshammiya is not-so-bad and finally Shreya Ghosal glides in like a petal on a breeze. The girl seems to have found her voice here.   
 
Reshammiya tries the hip route with Teri Meri dosti ka asman, which did have a lot of potential. Two things kill it completely -- a strange sampled violin patch and Reshammiya hitting the high notes in his inimitable, ear-splitting style. You want to reach for the earplugs when he does that.
Thank god for Kailash Kher. Obviously Reshammiya does not perceive him to be a threat, given that he has allowed a male singer to sing his compositions. Kher does ample justice and more to Damaadji angna hai padhaare, a Rajasthani folk fusion track. It is a delightful song with a lovely pace and a swing that will make it difficult for you to sit still through it all. Until of course Reshammiya joins in. And you are left tearing your hair in agony at how he undoes everything by getting his voice projection all wrong. 

Reshammiya however makes a sincere effort with Shaam ho chali hai, a romantic duet with Shreya Ghoshal. A minimalistic arrangement and a rather catchy melody could carry this tune forward. Short and sweet is Rafa dafaa kiya nahin jaye (Himesh), with a punchy, refreshing rhythm. And which served to end the album on a good note.
 
Rating this album is bit of a challenge. While the compositions do have considerable merit, Reshammiya's singing and the lyrics in some of the songs spoil the party to great extent.
Rediff Rating: