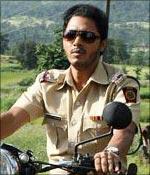 The first 15 odd minutes of Indraji Nattoji's Aage Se Right -- a title that flummoxed my autowallah twice, by the by -- sets you up rather well. You see a bunch of good actors bringing on the zaniness, and the characters all seem kinky in their own right.
Unlike Sankat City, the farce is enacted in the right pitch, and while you haven't really burst into a belly laugh yet, you expect to soon enough, smiling at the thought that a studio like UTV would bankroll a project this whimsical.
Some of the gags are indeed great, both throwaway lines and sight gags, but when you laugh at them, you do so guiltily, because they are surrounded by so much mediocrity. And it's constant. The need to amuse is so stultifying that the writer-director tries valiantly, recklessly to make every single line a zinger, every phrase quirky. And so most of them fall flat on their face. Take away the canned laughter from a bad sitcom, and what do you have? Embarrassment, really.
It starts off pretty promisingly, as mentioned. Shreyas Talpade is a reluctant policeman frequently harangued by his mother, who loses his service revolver. Meanwhile, Kay Kay Menon is a bearded Urdu-spouting terrorist who arrives in India in order to ravage it for his cause. It is at this point, when Kay Kay gets off a boat called Good Luck and meets his Mumbai point-man, Vijay Maurya playing a Southern gangster wearing a seemingly vinyl shirt and a sarong, that you decide this is the kind of madcap film best left unthought about.
Tragically, Nattoji seems to have done the same thing. This is the kind of script that one would get excited about while on the writing table -- ooh, let's get two terrorists to fight while in brightly coloured burkhas; hey, how about creating a villain's den with all sorts of manic gadgets and socking it to the Moser Baer guys for selling DVDs cheaper than we do? -- but to not rein in that enthusiasm and turn it into something halfway coherent is just criminal. Despite several good lines -- and a few good men -- the film ends up too amateurish to bother about.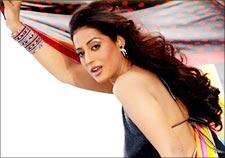 Some performances are pretty good, enough to make the first half pretty watchable. Vijay Maurya takes the cake, Kay Kay seems to be having a blast, and Mahie Gill is delicious, and we really wish there was more of her. Shreyas isn't bad, but we've seen him do much better. But it would take a seriously incredible ensemble to make the second half stick, and even the most talented of this lot just seem tired of going through the motions after the interval. As do you.
It feels bad to write off a film that shows off some slivers of genuine wit. The B-movie sets are straight out of Malegaon Ka Superman territory, and it's refreshing to see a film reference not just the obvious Quentin Tarantino via a girl shrieking 'hunny bunny' all the time but also the beautiful moment from Woody Allen's Everyone Says I Love You where Goldie Hawn flies sublimely into the air as she dances with Allen.
And yet, by the time the predictable climax drags around, it feels like a tackily made, badly paced Main Hoon Na. With nary a laugh to show for it. Nope, in the end there's too much left to do to call this film right.
Rediff Rating: