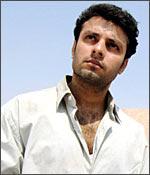 If you liked the great parallel cinema of the 1980s like Damul, Mandi and Mirch Masala, you might enjoy Mohandas.
The film revolves around a simple poor villager Mohandas (Nakul Vaid), who does well in his studies despite his economic difficulties. He has a promising future and everyone in the village feels that he will go places.
Mohandas lives up to expectations, and gets selected for a job in the coal mines of Anuppur, Madhya Pradesh. His family is relieved that their difficulties may soon end.
Things take a turn when he finds out that an impersonator (Sushant Singh) has taken up his position in the coal mines, and even calls himself Mohandas. The real Mohandas finds it very difficult to prove his own identity, and thus begins the fight between good and evil.
The media gets involved after reporter Meghna (Sonali Kulkarni) hopes to get down to the real story.
The name 'Mohandas' has nothing to do with Mohandas Karamchand Gandhi though there are references to the Father of the Nation in the film.
The beauty of the film is the story, screenplay and dialogue by Uday Prakash. He has weaved in the story so beautifully that you get deeply engrossed in the film. You really want to find out whether Mohandas gets justice in free and democratic India.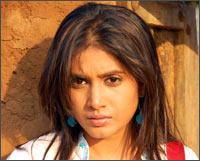 Cinematographer-turned-director Mazhar Kamran has shot the film beautifully. As a viewer, you are transformed to the deprived parts of India, where the weak are still unheard.
Living in cities and frequenting multiplexes and malls, we barely know the villages where Mohandas lives. You may even wonder whether the India in which he lives really exists.
It is here where Mazhar brings in his expertise as a cinematographer (he had earlier worked on Ram Gopal Varma's Satya) to make the events believable. He shoots in real locations -- villages which are still living in darkness.
Performances from the lead characters -- Nakul Vaid, Sonali Kulkarni, Govind Namdeo and Sushant Singh -- are good. Aditya Shrivastav is outstanding, as the lawyer who goes all the way to get justice for Mohandas.
The only downside of the film is that it is too hard-hitting. If you are looking for entertainment only, Mohandas is not the film to watch. But if you're in the mood for meaningful cinema, watch Mohandas. After all, it's time we discover the 'other' India.
Rediff Rating: