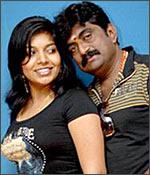 Mussanjeya Gelathi is perhaps the only Kannada film where a father and daughter have acted as the hero and heroine. Before you jump to conclusions, the two are not playing lovers though they have a song together. 
The posters of the film which shows actress Shalini, daughter of the film's hero/producer/director B P Sreenivas in sexy attire created quite a big stir with many organisations protesting against the film. Srinivas had to call a press conference to clarify that the film was not about incest and that the publicity designs taken from photoshoots were not part of the film. However, criticism against the film continued till its release. 
Controversies aside, Srinivas has tried to make a neat film by getting a good writer like Chukki who has also written good dialogues.
Srinivas plays the role of a depressed college professor who gets sacked over a misunderstanding between him and a student. His real life daughter plays the role of a mischievous student. The story of Mussanjeya Gelathi reminds you of the Hollywood movie American Beauty which won many Oscar awards a few years ago. 
While Sreenivas has tried to be as realistic as possible, the pace is rather slow. The highlight of the film is the lyrical beauty of the songs while the drawbacks are too many.
For one, Srinivas has taken on too many responsibilities. While he shines as a director, as an actor he's not that good. Another drawback of the film is his daughter Shalini, who doesn't suit the role of a student.  
Mussanjeya Gelathi has a bold story which could have been executed in a better fashion.
Rediff Rating: