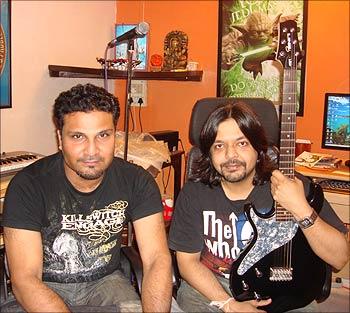 Music composers Siddharth-Suhas may not have hit the big league yet but they're definitely in demand. They have had three back-to-back releases recently, Yeh Mera India, Toss and Chintuji.
The duo has been passionate about music since their college days, where they were a part of a band called Vedic Chant.
"In those days, we were into rock music," Siddharth says. "We played regularly at IIT and other college shows across Mumbai."
Their friendship goes back even further when they were classmates in Standard Five. "We have our fights and arguments but we remained friends," Siddharth laughs.
Today, the 34-year-olds have already released two albums, in 1999 and 2003. They then turned their attention to television serials, the ad world, and finally, Bollywood. They got their first break with Jawani Deewani in 2005. Since then, they have been having regular releases.
The music composers have even made the great Khali dance to their tunes as well as sing in the film, Rama Rama Kya Hai Drama. "We prefer new singers," Suhas says. "We have nothing against established singers -- they are the best in the business -- but new singers have a certain rawness in their voices which sounds fresh."
Presently, the duo is acting in a Prakash Jha production titled Turning 30, starring Purab Kohli and Gul Panag. "That was by accident," he says. "The director Alankrita Srivastav is a good friend. We were composing music for that film when she asked us to act. As we had already made music videos, we did not have any problem facing the camera. We did not act, we played ourselves."
Suhas claims that none of his family members are into music. "My father is a builder but my parents encouraged me with my music," he says. "My grandfather used to sing in village fairs. He had a very loud voice and that helped him sing without any mikes."
The duo hopes to produce movies five years down the line.