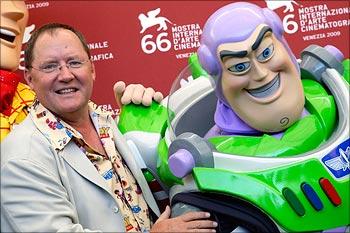 Directors of Pixar Animation Studios in the US have been awarded the Venice Film Festival's lifetime achievement award, making them the first team to bag the honour.
Pixar has made 10 films, four of which have won best animation Oscars, with chief creative officer John Lasseter, 52, and other directors helming hits like Finding Nemo and Toy Story.
Star Wars creator George Lucas presented the Venice Golden Lion lifetime achievement award to Lasseter and his team.
Pixar began life as the computer graphics division of his company Lucasfilm, and it later became Pixar after Lucas sold it to Apple founder Steve Jobs for 10million dollars in 1986.
'I think anybody else when they sell a company and the company goes on to be very successful, they would feel like they missed out,' the BBC quoted Lasseter as saying.
'George Lucas is so proud of us and we are so thankful to him -- he is a true visionary,' he added.
Pixar's latest animation Up, which launched this year's Cannes Film Festival, is due for UK release on October 9. 
Image: Director John Lasseter poses with characters from Disney-Pixar movie Toy Story during a photocall at the 66th Venice Film Festival on Sunday. (Photograph: Tony Gentile/Reuters)