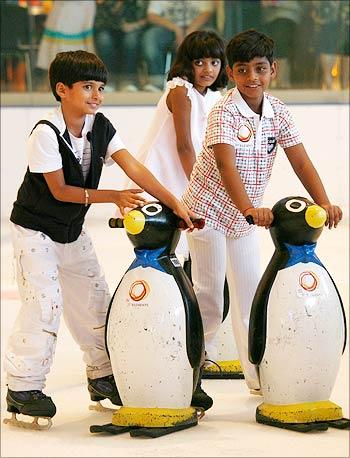 Slumdog Millionaire child stars Rubina Ali and Azharuddin Ismail are set to star alongside Sir Anthony Hopkins in a new film, it has emerged.
The two stars of the Oscar winning film will appear in Lord Owen's Lady, a new picture about a Welsh nobleman who falls in love with an Indian girl.
The producers of the film are reportedly in negotiations with Hopkins to play Lord Owen's father, while the two children will also appear, reports the Daily Star.
The entire film will be shot in Wales and India.
Meanwhile, Ismail recently lost his father to tuberculosis.
Executive producer Martin Pennell has offered his condolences to the youngster and hopes the tragedy won't hinder his blossoming Hollywood career.
Image: Slumdog Millionaire kid stars (left to right) Ayush Mahesh Khedekar, Rubina Ali and Azharuddin Mohammed Ismail pose in an ice-skating ring after attending a charity event in Hong Kong in June. (Photograph: Bobby Yip/Reuters)