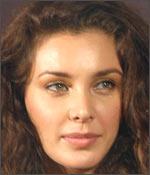 Lisa Ray is suffering from a rare and incurable cancer of the white blood cells.
Disclosing the details about her health, the actress wrote in her blog, "I was diagnosed with Multiple Myeloma on June 23rd. Started my first cycle of treatment July 2nd. Not long ago.
"Few months ago my bone marrow started sending me messages. The signals: I was always exhausted, pale, drained, and completely depleted of red blood cells. The lack of oxygen made me a serial yawner and spacier than a displaced Czarina. Little did I know, but my hemoglobin had fallen to levels where even a dedicated blood sucker would turn their thoughts to revival. In between work and travel in India this year, I got a routine blood test and the results sent me to the hospital for a blood transfusion."
She further added, "For me, it was a relief to hear what was wrong. The plasma cells in my bone marrow were rampaging, multiplying, squeezing out the red blood cells and it was time to begin doing something about it. I was also tired of being tired all the time. And you just know when something is not kosher with your body. So when I sat there with Bobcat -- my life partner and reservoir of Yellow -- and got the news I didn't react and I didn't cry. I'm an actress, believe me, I can be dramatic. Not just then though."
Lisa, who has acted in Vikram Bhatt's Kasoor and Deepa Mehta's Water travels to and fro between India and Cannada for work. Her latest film, I Can't Think Straight where she plays a lesbian is releasing on September 11.
Writing further about her cancer, Lisa said, "Myeloma is incurable. It's a relatively rare cancer of the bone marrow that affects about 6000 Canadians. Every year, approximately 2100 more cases are diagnosed. I'm a junior member in many ways, having been diagnosed at 37, while the average age is 65. Makes the disease not quite as 'sexy' as other cancers. But we can change that."
She concluded by stating, "In the industry I'm in, you could say, its motive alone that gives character to your acting. So today with Velcade and, Revlimid and other promising new treatments in the pipeline our survival rates are improving. But only with an ever expanding toolbox of treatments and awareness can this cancer be beaten. So I'm going to do everything I can to wrench the spotlight onto Myeloma and cancer awareness. I believe it can be cured. That's the Dirty Realist in me."