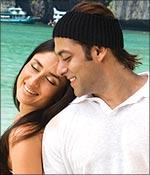 It is raining Salman Khan these days with two big releases, Wanted and Main Aurr Mrs Khanna set to hit the marquee.
Predictably, both Khan-starrers have music by Sajid-Wajid.
Main Aurr Mrs Khanna's soundtrack, however, stands out for two things. The overabundance of English hooks and lyrics and a rather interesting mix of singers, namely Sonu Nigam, Wajid, Suzanne D Mello, Rahat Fateh Ali Khan, Bappi Lahiri, Shaan and Neuman Pinto.
Start off with the theme song, Don't Say Alvida (Sonu Nigam, Shreya Ghoshal, and Suzanne D'Mello) which comes in three varieties -- regular, sad and remixed! It is a melodious number, which may remind you of the Kabhi Alvida Na Kehna title track, but honestly, the Once upon a time... English chorus and the lame remix version could have been easily done away with.  
However, the next one, Happening (Wajid, Sunidhi Chauhan, Uvie, Farhad and Raja Mushtaq), is a high-energy qawwali-fusion track, clearly meant to be an 'item' song with some surprises and a consistent pace throughout. While this one does not really break any new musical ground (Main Hoon Na or Bunty Aur Babli anyone?), Sajid-Wajid do give it their own spin, making it a great number to shake a leg to.
Up next, a fun song Mrs Khanna (Bappi Lahiri, Shaan, Sunidhi, Neuman Pinto and Suzanne D'Mello), which is a punchbowl of Bhangra-fusion and English hooks, with a smattering of pop, jazz and guitar solos. It does start off well, but somehow the rest of the song fails to live up to the zestful opening bars. Nevertheless, the song has potential to pick up well.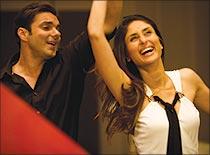 Rahat Fateh Ali Khan's signature style marks Rabba. It is a slow song of pathos which progresses with some dramatic pauses and melodic pattern. Soulfully sung by Khan, it is surely the connoisseur's choice if you are in the mood for some intense music.
Tail-end surprise comes with Tum ne socha (Wajid, Shreya), which is a decidedly 'Western' number with breezy guitar solos and a riff which is very 1980s. Pleasant. 
As always, Sajid-Wajid's songs are no great works of art, but score over the recent releases for being tight, varied and catchy, and barring the somewhat 'wannabe' bias towards English hooks, quite unpretentious.
MAMK's music is very Bollywood in its appeal. With the quintessential love song, the sad song, the fun and remix songs, it delivers to the brief. 
Rediff Rating: