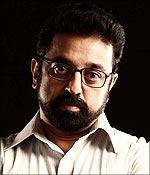 Unnai Pol Oruvan (Someone Like You), the Tamil version of A Wednesday, produced by UTV and Kamal Haasan, starring the veteran actor and Mohanlal, and directed by Chakri Toleti, has been making waves ever since the project was announced.
Even more striking is the fact that it's Shruti Haasan, Kamal's daughter who has scored the music. Here's a look at the collection:
A chorus that sounds very like a hen cackling gives way to ominous verses from the Bhagavad Gita, set to synthesized music. Judging from the lyrics of Unnai Pol Oruvan, written by Kamal Haasan, it's easy to see that this must be the theme song of the movie. With Jai Rowkavi's drums and Videep Vijay Kumar's guitar's strumming in your ears, you have to admit, the heavy thrumming music is catchy and appealing. While voices cut in almost apologetically that they're "the new face of terror," the vocalist list is almost mile long -- Mira, Tara, Aiden, Subba Lakshmi, Akshara Haasan, Satish, Leo, Krishnan Swaminathan, Bala and Shruti Haasan herself. The influence of cataclysmic epic movie sound-tracks is evident but it sort of works here. You wonder how the whole effect will work on-screen.
The next number starts off reminding you faintly of Rihanna's Unfaithful, but it shifts focus soon, thankfully, and when Bombay Jayashree starts off in her trademark husky voice, accompanied by Haasan himself, with Nilai Varumaa, you listen with pleasure (despite some early misgivings). Vijay Kumar's guitar once again provides a pleasant interlude, while the lyrics are all about the hopelessness of a situation fraught with the perils of terrorism and communal riots. You're treated to a sudden, dramatic swarakkorvai set to a dash of synthesized music, and the effect is not unappealing. Angst-filled and depressing: but in a good way.
Sounds of automobiles rush past your ears, while Blaaze kicks off Vaanam Ellai Illai with a laid-back rap, while Shruti Haasan contributes with vocals that hold a twang of classical notes. It's a bit weird, though, to hear classic lines like Theethum Narum Pirar Thara Vaaraa set to trembling, "modern" rhythms.
A resounding moaning lament accompanied by percussion grips you, as Kamal Haasan begins Allah Jaane: an anguish-filled number, written by noted poet Manushyaputhran. Kamal's strained voice does remind you at times of one of Tamil's yesteryear singers, Jeyaraman. Certain sections of the song recall sharply, the Meera Bhajan Nanda Nandana but the long, slow grief-filled anthem works here, aided amply by Amal Raj's strings and live instruments, and the chorus. This one is easily the pick of the album, adding great depth to the collection.
Shruti Haasan provides the vocals in the next song -- the remixed version of Allah Jaane -- 2, and it reminds you of the disco-esque music of the 80s -- particularly ABBA. And though it is appealing, you have to admit that the mournful lyrics suit the slow and steady pace of the previous number.
Some may accuse Kamal Haasan of favouritism in choosing his daughter to score for his production but the actor does set high standards for his crew. It would be premature to hail the arrival of the next musical genius, but without going to such lengths, you could say that Shruti Haasan's debut looks promising. This album is definitely worth listening.
Rediff Rating: