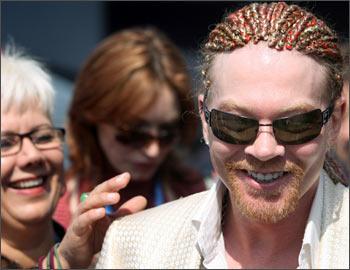 American rock band Guns N Roses are set to organise a concert in India.
According to reports, the band, fronted by Axl Rose, have already signed on to perform at the Palace Grounds in Bengaluru on November 7.
However, local promoters are in talks with people in Mumbai, Delhi and Shillong.
'It is true that we are bringing Guns N Roses to India,' Contactmusic quoted Raj Sinha, director of Rhapsody Inc., the company behind the confirmed Bengaluru concert, as saying.
'As of now, I can tell you that the Bengaluru concert has been confirmed. We're still in talks with people in Mumbai and Delhi, so let's hope that works out. However, there is a good chance we can take the band to Shillong as well.
'I can confirm that Axl Rose and Dizzy Reed will be there. DJ Ashba, their latest (addition), will be there. There will also be a person called Troy and two other members,' he added.
Image: Guns n Roses band member Axl Rose. Photograph: Darren Staples/Reuters