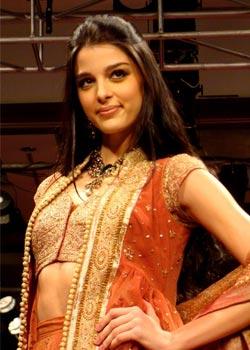 These days, Giselle Monteiro is better known as Harleen Kaur from Imtiaz Ali's Love Aaj Kal. But when this Brazilian model took the ramp for designer Ritu Kumar at the Kolkata Fashion Week (KFW), the audience could hardly recognise her.
India Blooms correspondent Sreya Basu chats with the model-turned-actor of 'a few words'.
The audience could hardly recognise you when you walked the KFW ramp. Do you feel bad?

No, not at all. I understand. People have hardly seen me off-screen, so it's natural. And then, I don't think they were expecting me at the very first day first show of the fashion week.
The Ritu Kumar outfit your sported is traditional bridal wear. Are you comfortable in these kind of clothes?

Yeah, very much. I love everything elegant and this bridal wear is so good!
How do you feel after walking the ramp for the first time in India?

It's great, couldn't be better.
What is the difference between walking the ramp in India and abroad?

The audience is more joyous and it's more lively here.
What clothes do you love wearing on a regular basis?

I love elegant clothes, be it for daily wear or occasional.
Who is your favourite Indian fashion designer?

Ritu Kumar.
You are saying that because you just walked for her...

No, seriously. I am yet to come across a designer who can make such multi-dimensional clothes for our generation.
Who do you think is the most stylish actor of Bollywood?

I don't remember names but Rekha is someone who is the ultimate in style and elegance. I like Priyanka Chopra as well.
And among the men?

Saif (Ali Khan) looks very nice in a white kurta.
Can we expect to see you in more Bollywood films?

I am reading scripts.
Do you enjoy working in Hindi films?

Yes. I loved dancing to Hindi songs and trying to speak Hindi for Love Aaj Kal. I love everything about Hindi films. And I want to be here for a long, long time.