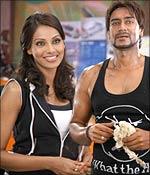 Warning. The music of Sanjay Dutt, Ajay Devgun-starrer All The Best is not for the fainthearted.
Pritam is back and smoking, with a shake of those famous locks as slashing guitars, rumbling drums and screaming vocals grab you by the scruff and smack you right across the face. What a wake up dada after the buttery smooth Love Aaj Kal!
So this unapologetically rock album cuts to the chase with a drum roll leading to Dil Kare (Rupam Islam and Suraj Jagan). The song obviously belongs to the same family as Queen's We Will Rock You and Michael Jackson's They Don't Care About Us. In its lyrics it shares genes with Rock On. With a tight groove and shred style guitar solos, Dil Kare kicks a**. Both Suraj and Rupam are rock stars with significant fan following and bring their individual flair to this number which is bound to resound at college fests and reality shows.
Cut to Haan Main Jitni Martaba, which if you listen carefully is actually an intense love song. Kay Kay and Yashita do a commendable job with this unusual track which blends youthful romance with screaming, distorted guitars.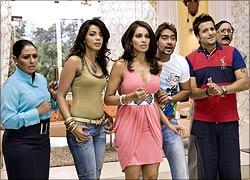 All the Best, the title track is all fire and brimstone. Singers Rana, Soham and Arshita go full throttle with whammy guitars and folksy beats in this one. Picturised on the original dudes of Hindi cinema and the reigning sex bomb, All The Best is as high decibel as a Hindi film song could ever get. 
Pritam switches gears with Kyon, a soft vocal and guitar-driven composition sung beautifully by Clinton Cerejo. The surprise continues with the next. It's a C'mon Barbie Let's go Party-mode with You Are My Love (Neeraj Shridhar, Alisha Chinai, Kunal Ganjawala). This 'Pinacolada song' is great to shake a leg to in a beach shack with a small tribute to the Gypsy Kings (Pritam loves them guys!) in the midst of all the fun and frolic.
Two remixes -- Hai Jitni Martaba and Dil Kare -- complete the set and manage to turn these rock numbers into out and out dance tracks, difficult to recognise.  
Though it suffers a bit from the lack of a strong melody or a catchy, take-home hook or riff, All the Best is an audacious attempt. One that's definitely welcome after the string of confused albums of recent times.
Chances are, you'll either love All the Best or hate it. Pritam da makes no concessions for fence sitters.  
Rediff Rating: