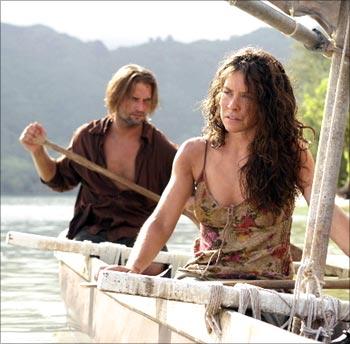 If America wants to change hearts and minds in the Middle East, perhaps it'd do best to put down the guns and pick up video cameras.
That's because, even as Iranian officials continue to denounce the US, the Iranian people are in the midst of Lost-mania!
Yes, that's right. Following soaring sales of pirated black-market DVDs in Tehran's bazaars, Lost, the US drama serial about plane crash survivors stuck on a far-flung island, is all set for proper commercial release in Iran.
A Guardian report says that Silver Screen, Iran's leading home video distributor, is to market seasons 1-3 of the hit show, a total of 15 episodes, after buying the broadcast rights and employing Iranian actors to dub the episodes in Farsi.
The report adds that Silver Screen has also started talks with the state broadcaster about airing Lost on nationwide television.
While other award-winning US serials like 24, Prison Break and Desperate Housewives have large followings in Iran, none before Lost has been given official approval.
And though Lost faces many of the big hurdles that kept those programmes from earning Tehran's official approval -- namely 'un-Islamic' scenes that feature provocatively-dressed women or male-female physical contact -- it appears that Lost has a leg up on the competition.
Iran's culture and Islamic guidance ministry, which has final say over what can and can't be shown, is expected to approve the idea, the Guardian says.
But granting distribution and broadcasting rights to Silver Screen for Lost will likely be seen as an about-face by Iranian officials, as previously they'd criticised the series and warned media outlets against publicising it.
Mohammad Hossein Saffar-Harandi, the recently sacked Culture and Islamic guidance minister, lambasted Lost for displaying 'Zionist concepts'.
But others aren't so sure.
'The atmosphere of this story, due to our classic literature, is familiar to Iranian and eastern viewers,' Saeed Ghotbizadeh, a TV and cinema critic, reportedly told the Tehran-e Emrooz newspaper. 'Eastern viewers... would naturally like it. Because it has a religious theme, it is possible to broadcast 90% of it without censorship.'
Silver Screen better hurry up with the DVD distribution campaign, however. Lost's popularity in the country has already spawned plans for an Iranian remake.
Image: Josh Holloway and  Evangeline Lilly in a scene from Lost.