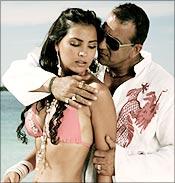 This is undoutedbly one of the most-awaited albums this year, and AR Rahman goes all out to make the wait worth it.
Blue, the 70-crore multi-star extravaganza has a soundtrack that not only features Kylie Minogue in a casting coup of sorts, but also gives you Shreya Ghoshal as never before -- shaken, stirred and stylish.
Unfortunately, you may be a little disappointed with the first and the most high profile songs currently on air. Chiggy Wiggy featuring Kylie Minogue and Sonu Nigam is an elaborate composition with surprisingly pedestrian lyrics and a predictable melody. It is however painstakingly crafted and as you move from the sparse arrangements of Kylie's sections to that of Sonu's Bhangra pop, the canvas is suddenly a riot of mustard yellows and halwai oranges. It is a catchy dance track and there is not much more to that.
Quickly hop over to Aaj Dil, which is a fire and ice duet featuring Sukhwinder Singh and Shreya Ghoshal. Nothing is predictable about this song which draws inspiration from jazz, Carnatic, funk and what have you! Shreya Ghoshal gets into on a smouldering, sensuous avtar as she croons to Mayur Puri's evocative lyrics, ably supported by Singh. What also stand out are the guitar and bass lines. The pace, groove, melody and the vocals come together by design in Aaj Dil to make you go 'ooh yeah!'
 
Fiqrana again is an unpredictably built song, which progresses with great energy soaring sky high with the chorus. It is a tad lyric-heavy and a little too long but Vijay Prakash and Shreya Ghoshal do justice to this inspirational number.
If Bhula Tujhe harks back to Jaane Tu...Ya Jaane Na blame it on the credits. It has lyrics by Abbas Tyrewala and is sung by Rashid Ali who lent his voice to Kabhi Kabhi Aditi. It is a sad song, backed by an extensive western orchestra (Rahman's favourite Chennai String Orchestra) which gives it a 'big' sound. Guess now we know why Rahman picked up Rashid from a gig in London. He does not have a conventional, easy-on-the-ears voice, but a certain expression and timbre which will remind you of Rahman himself. And perhaps why the maestro gives him one of the more emotionally charged, melody-driven tracks in the entire album.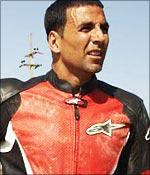 The Blue Theme by Blaze, Raaqeb Aalam, Sonu Kakkar and Jaspreet is dark blue with its mean-street origins in rap with a dash of electronica. The track ends with a plunge into deep seas, thanks to some clever sound design.     
 
Up next is one of my favourites from the album, Rehnuma. Though the opening bars will definitely remind you of the title track of Jaane Tu ... (this too has lyrics by Abbas Tyrewala) with its slow jazz buildup, buckle up for Shreya Ghoshal. The girl is white hot and silken smooth in this killer track straight out of a 007 flick. Close your eyes to Rehnuma and you'll see slithering cocktail gowns and slim cigarettes, jet skis, limousines and smoking guns. And when Ghoshal goes for the kill in the chorus Qaatil adaa, she hits the spot, and how! Killer track.
 
The album ends on a disappointing note however with Yaar Mila Tha, featuring Udit Narayan and Madhushree. This folk pop track is conspicuous by its jaded lyrics and treatment, and probably not something you'd look forward to on the screen either. 
Blue is not your run-of-the-mill assemblage of hummable songs with catchy riffs and melodies. The music is as global in its influences and execution as can be expected from Rahman and the scale of the film. You cannot use conventional wisdom to analyse it.
   
Blue also helps us rediscover the incredibly talented Shreya Ghoshal, who was lost somewhere in the cacophony of the mindless, assembly-line romantic duets. Thanks to Rahman, Ghoshal rises to the occasion. All guns blazing.
Rediff Rating: