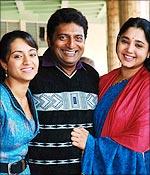 This year's National Award winner for Best Actor, Prakash Raj has so far produced twelve Tamil films from the banner, Duet Movies, some of which have bagged national and international recognition like Abhiyum Naanum and Mozhi.
But he has not ventured into directing any film so far. Being a Kannadiga himself, he has also not fulfilled his desire of producing a Kannada film.
Now, Prakash Raj is all set to produce a Kannada film for which he will take up the mantle of direction also. He announced this at a press conference in Bangalore last week. The Kannada film he's directing is titled Naanu Maththu Nanna Kanasu.
The film will be produced jointly by his Duet Movies of Prakash Raj and the Media House owned by his long time friend B Suresha and Shylaja Nag.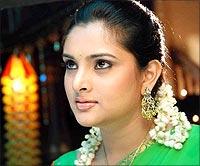 It will be the remake of his own Abhiyum Naanum made in Tamil by Radha Mohan. Abhiyum Naanum was a film about the relationship between a father and a daughter. Prakash Raj played father to Trisha. In the Kannada version, Ramya will play his daughter.
Prakash Raj said that he was not defensive about making a remake, but would reiterate that the film in its changed format for the Kannada film will be a new experience for the audience. 'I am answering an inner voice in me to take up direction. I am only fulfilling my desire of producing a good Kannada film. I am making a film for which I was completely involved in writing the story and screen play,' says Prakash Raj.
Producer B.Suresha said that though he has been against remakes, he wanted to remake Abhiyum Naanum in Kannada the moment he saw the film last year. "I was so touched by the film that I thought it s necessary for the Kannada film audience to see it in their own language," says Suresha.
Hamsalekha is the music director, Anant Urs the cameraman and Arun Sagar is the art director.