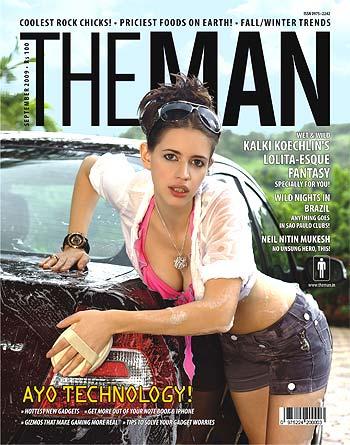 Dev D girl Kalki Koechlin has landed her first cover for The Man magazine.
The French actress, who speaks fluent Tamil, first wowed us with her performance in Anurag Kashyap's psychedelic movie which also starred Abhay Deol and Mahi Gill.
Now she's wowing us yet again with this sexy cover.
In the magazine, Kalki shares tips on dating, secrets about Anurag's dirty men habits [she's dating the guy] and how love changed them both.
Talking about the virtues of accepting change and sometimes compromising when one moves in with a boyfriend or girlfriend, Kalki says, "It was very tough at first. You discover each other's annoying habits. Anurag does this weird thing of scratching his throat and making noises when he wakes up. It used to make me feel sick. Then he had this habit of leaving behind used tea cups, food plates, and newspapers all over the floor. When he shaved, he would leave all his hair all over the sink. It was disgusting. Sometimes I still have to tell him to put the toilet seat up before he pees. He has those dirty men habits. At times he wouldn't bathe for two days. He has changed most of it now."
Pick up the latest The Man issue for more!
Co-ordination: Priyanka Jain | Photograph: Rohan Shreshtha for The Man
Stylists: Pinky Gogri and Aesha Merchant
Makeup and Hair: Pompy