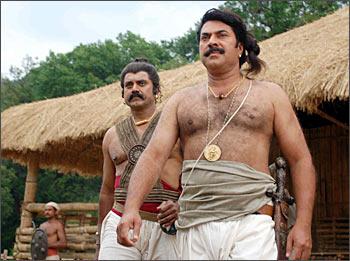 When Jnanapith award winner, M T Vasudevan Nair, director Hariharan and actor Mammootty came together last in Oru Vadakkan Veeragadha (1989), they created magic on celluloid.
Now they are ready with another Malayalam magnum opus, on the life of King Pazhassi Raja titled Pazhassi Raja.
Pazhassi Raja belonged to the Kottayam Royal family in Thalassery. He had helped the British in their fight against Tipu Sulthan. But after the British imposed heavy taxes directly on the rulers, Pazhassi Raja turned against them during the mid 1790s. Pazhassi Raja waged a guerrilla war against the British from Wynad, with a group of Nairs and Kurichiyas in the early 1800s.
With the appointment of the young British officer, Thomas Harvey Baber as the sub-collector of Thalassery in 1804, the going became tough for Pazhassi Raja and as per certain history books; he died swallowing his ring in 1805. But the grapevine has it that the end of Pazhassi Raja, as mentioned in the some history books, has been proven wrong in the film. As Thomas Harvey Baber later said, "He was our enemy, but he was a great man, a great warrior."
In Oru Vadakkan Veera Gadha, M T Vasudevan Nair made the character Chandu played by Mammootty a hero though in the folklores, he was called Chathiyan Chandu (Chandu who cheated). The writer also wrote Randamoozham, (Mahabharatam retold) from the perspective of Bhima. Similarly, in all probability, viewers can expect a story of Pazhassi Raja, hitherto unknown to all of us, in the film.
Pazhassi Raja, produced by Gokulam Gopalan, took some time in the making but has been eagerly awaited ever since the project was announced.
Mammootty plays Pazhassi Raja, while Kaniha is doing the role of his wife, Kaitheri Makkom. The star cast also includes Sarath Kumar, Suman, Padmapriya, Thilakan, Jagathy Sreekumar and a few foreign actors.
Hariharan and M T has teamed up earlier to make some of the finest films in Malayalam; other than Oru Vadakkan Veeragadha, Parinayam, Panchagni, Nakhakshathangal, Amrutham Gamaya, Aranyakam, Idavazhiyile Poocha Mindapoocha and Valarthu Mrugangal. The two had contemplated making a few other stories this time but finally decided to make the film on Pazhassi Raja. Legendary producer-director Kunchacko of Udaya Studios had earlier made a film on Pazhassi Raja in 1964.
Pazhassi Raja, without doubt the most eagerly awaited film during recent years, has a prologue on the ruler by Mohanlal. Oscar award winner Resul Pookkutty has done the sound designing of Pazhassi Raja. Music maestro Illayaraja is the music director.
Pazhassi Raja, as the legendary ruler was, would be a cut above the rest.