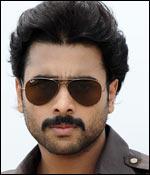 Telugu film Baanam marks the debut of another scion, not of a film family but from a political family. Nara Rohit is the nephew of former Chief Minister of Andhra Pradesh, N Chandrababu Naidu. His maiden attempt is fairly good considering he has got a script from director Chaitanya Dantuluri which is different from the formula ones seen on the big screen.
The movie, set in 1989, does not have the usual dose of masala and is interesting and realistic to view. Chaitanya weaves in the message neatly into the film, not letting it dominate.
Essentially, the film is the struggle of good over evil. Nara Rohit plays the protagonist (Bhagat Panigrahi) who is soft and gentle (who wants to be an IPS officer). He is drawn into the vortex of problems created by the baddie Shakti Patnaik (Ranadhir).
Bhagat's father Chandrasekhar Panigrahi (Sayaji Shinde) is a Naxalite who surrenders when Bhagat grows up. He wanted to appear for the Civil Service Examinations so, he ingrains in Bhagat the need to help humanity. Bhagat wants to be a police officer and wipe out atrocities in the system.
He meets Lakshmi (Vedika) a girl in distress, rescues her and brings her home. She is actually a married girl who is thrown out of the house on the night of marriage by her in-laws on account of dowry. Bhagat becomes her guardian and later of course, falls in love with her. The three -- father, son, and Lakshmi live together. But Shakti makes life miserable for them. How Bhagat copes with it, fights it within the system is what the movie is all about.
The film is fairly neutral in the way it presents Naxalites and police officers. In a sense, there is nothing very new in the story but the screenplay does hold your attention. Also, the verdant landscapes shot well by Anil Bandari make it worthwhile to watch.
The film moves at its own slow pace in parts but the main plus point is the duration, which is less than two hours.
Baanam is devoid of the inane comedy scenes. That's quite a reason to be thankful about. It also has the heroine clad only in saris, and not in itsy-bitsy outfits. There are no foreign locales, either.  
Director Chaitanya seems to have worked out a good movie. The son has an ideology, so does the father, but there is not much of force in the way it is depicted. There is no fire or passion in the person following that. Chaitanya starts the movie well but after a point, it goes up and down before finishing on a questionable (when the hero asks for four officers being trained at a police academy to assist him in vanquishing the villain) note.
Rohit has screen presence and is able to carry the film on his shoulders. In the expressions department, there is scope for improvement. He should be complimented for choosing such a script for his debut.
Vedika gives him good company as the naïve girl. It's quite refreshing to see them together. Sayaji Shinde does not have a solid role (wish there were more dialogues, interactions between father and son) yet he is good in whatever he does (considering he dubs his own voice).
Mani Sharma's music is quite melodious. His background score does make an impact. The introduction song of Rohit against the green landscape makes for good viewing.
Anil Bhandari's camera work is impressive as he has been able to capture the beautiful locales well. Marthand K Venkatesh's editing is neat.
Baanam, sans the formulaic pattern, makes for a decent watch and such films have to be encouraged by the audience.
Rediff Rating: