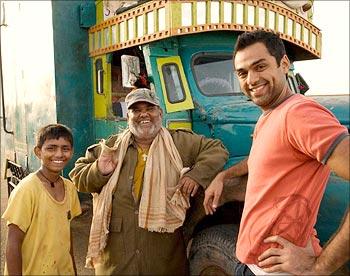 The one complaint I have against Dev Benegal's Road, Movie is that it ends in 95 minutes. How I wished this road journey had continued for another hour.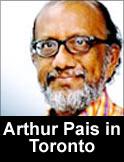 This lovely, wise, witty and soul-stirring film has irresistible charm to become an instant art-house hit.

The film takes us on a journey across a rough and exotic terrain, but never forgets to let us know that it is also about the inner journey of a young man called Vishnu. The journey also brings us in contact with issues like police corruption, corporate culture, a desert warlord's philosophy, ethnic stereotyping and passion for cinema.

Vishnu (Abhay Deol) abandons his father's failing head oil business and offers to haul his thoroughly worn out truck to a far away destination across the desert.

He discovers his uncle used to show films in the outdoors to villagers during his week-long drive.
In the climatic scenes, Benegal offers a truly touching tribute to world cinema. People who love cinema will weep at the scene.

The ensemble performances by Tannishtha Chatterjee, Satish Kaushik and Mohammad Faizal are consistently excellent.

Tannishtha sings a lovely song, using her own voice. And for the love of the movies, she can really kiss. The kissing moment is so important to the film that the censor board should not touch it.

This is Dev Benegal's third film, following English, August (1994) and Split Wide Open (1999). It is difficult to imagine why he has not made more films.

I saw Road, Movie at a 12.45 pm screening at the Toronto International Film Festival on Wednesday. I could have seen three more movies subsequently. But I was so full of the film that I did not want anything to spoil my joy. I sat in a coffee shop and re-visited the movie for over an hour.
I suspect I will be doing so for quite some time.