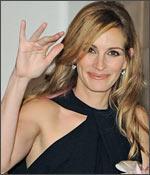 Oscar winner Julia Roberts landed in New Delhi on Thursday with cast and crew to shoot her film, Eat, Pray, Love.
Based on Pushcart Prize winner Elizabeth Gilbert's spirituality/travel memoir, this film recently wrapped up its shooting schedule in New York and a stint in Italy. Roberts plays Gilbert in the film.
Roberts' twins -- Hazel and Phinnaeus -- are accompanying her. They will stay till the first week of October, reports suggest.
Shooting, though being kept secret, will reportedly start soon at an ashram near Gurgaon on the Delhi-Jaipur National Highway 8, close to Delhi's Indira Gandhi International Airport. Some scenes will also be filmed at Pataudi Palace, about 60 kilometres from Delhi.
Some of the Indian crew of Slumdog Millionaire will help in the India leg of the shooting.
Indians will be anxious to see how perfectly the 41-year-old actress does her job of cleaning ashram floors as a part of her devotional duty, trying to recite 182-verse Sanskrit chant, and going through grueling hours of meditation.
Oscar nominated Richard Jenkins (The Visitor) and Oscar nominated Viola Davis (Doubt) will also reportedly participate in India shooting. The rest of the cast includes Oscar winner Javier Bardem (No Country for Old Men), Paris Film Festival award winner Billy Crudup (Almost Famous), Golden Globe winner James Franco (Pineapple Express) and Luca Argentero (Lezioni di cioccolato).
Directed by Emmy nominated Ryan Murphy (Nip/Tuck) and produced by Columbia Pictures, Brad Pitt's (The Curious Case of Benjamin Button) Plan B Entertainment and Roberts' Red Om Films, Eat, Pray, Love is aimed at a release in 2011.
Roberts will reportedly not shoot in the original ashram where Gilbert stayed for about four months, a few years back, trying to find her spirituality. Although Gilbert did not disclose the name of the guru or the ashram where she stayed in her book, it is widely guessed that she stayed at Gurudev Siddha Peeth at Ganeshpuri in Maharashtra and her guru was Gurumayi Chidvilasananda, a Siddha guru and follower of Swami Muktananda (who passed away in 1982).
The current trip is described as business-cum-pleasure visit for Roberts. Last January, she sported a bindi during her trip to India when she also visited Taj Mahal with husband Danny Moder.
Gilbert's bestseller memoir Eat, Pray, Love is about her self-discovery and soul-searching after her nasty divorce, exploring through India, Italy, and Indonesia, a journey which is pleasurable as well as enlightening. It was number one on New York Times Paperback Nonfiction List for over a year and over five million copies were reportedly now in print.