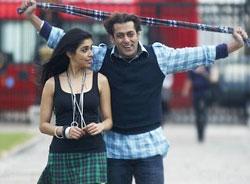 First up, a few observations about Shankar Ehsaan Loy's London  Dreams.
There is not a single track by a female vocalist (apart from the backing vocals in the remixes), making it a significant album in Bollywood history. Secondly, after Shreya Ghoshal's superb turn in Blue, here's another rediscovery of Roop Kumar Rathod who literally sings his heart out. And finally lyricist Prasoon Joshi is back with his 'happiness in your pocket' kind of imagery.
Let's begin with one of the most high-octane tracks in the album.   
When a hard-core rocker and a seasoned ghazal singer come together, you can expect some smoke on the water and fire in the skies. And that is what happens in Barson Yaaron. Vishal Dadlani and Roop Kumar Rathod go full throttle in their unique ways in this rock-to-raga song that will drench you with its energy.
Listen to Rathod soar in the chorus and you'll know he has not sounded as good in a while. Blending dhol- driven Indian sounds with heavy duty guitar licks and drums, this fusion track ends with an inspiring Hanuman Chalisa (Rathod again) at the end. The exuberance is absolutely infectious.   
Up next is a fun song with old-school Hindi lyrics Man ko ati bhavey (Shankar Mahadevan). It is kitsch, energetic and has a certain street-smart feel to it, making it the kind of number the average Indian male would spontaneously shake a leg to. The mischievous Hai Re Hai Re chorus adding that extra spark to this track.  
Tapkey Masti sees Bhangra going metal, almost, with a string and horn section in between making it a rather unusual number. Sung by Bhangra singer Feroz Khan, and very Praoon-ish lyrics that go 'Zeb mein tu bharle mastiyaan', Tapkey Masti makes for a very danceable track. And reappears as a remix version later.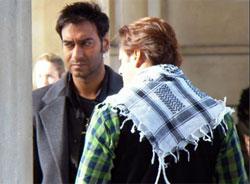 Another zesty track pops up next. Khanabadosh (Mohan) is a sexy, hip composition with a catchy pace and very 80s' guitar parts. This kind of draws the listener and engages him in an interesting conversation.   
One of the best tracks in the album has to be Khwab Jo. It stands heads and shoulders over any of the songs released in recent times by virtue of the superlative vocals and arrangement. Shankar Mahadevan and Rahat Fateh Ali Khan complement each other beautifully in this duet, with the opening section handled delicately. It is a slow song, where the lyrics lead the melody, finally culminating in a perfect marriage of the two. It is a rather difficult song to perform if you not a trained voice, and Mahadevan and Khan show why they are probably the best in the game. Khwab Jo, is dreamy, inspiring and moves to a climax which is drowned in a surge of audience applause which dies out, leaving you kind of drained. Pretty intense. 
An evocative section marks the opening of Yaari Bina, an ode to friendship sung by Rathod and Milind Shinde (who has been a name with his Marathi devotional albums especially). Rathod's tarana is a bonus in this track, while Shinde's rich, grainy voice is a pleasure to listen to. 
Jashn Hai Jeet Ka by Abhijit Ghoshal has a heady mix of Arabic rhythms, melody with groovy electronica and guitars. While Shola Shola (Zubeen Garg) is a curiously laid-back dance track with an all-male chorus that grows on you.
London Dreams is tight, meticulously planned and power-packed, with hardly any weak link if you don't mind the absence of a female voice. Definitely one of the most engaging albums to have emerged this season.
Rediff Rating: