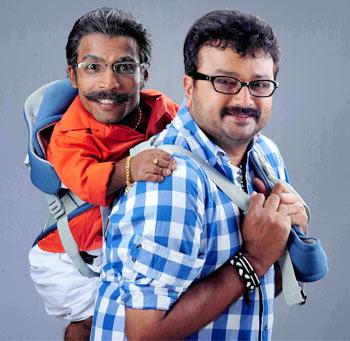 The most interesting thing about Mahesh P Sreenivasan's forthcoming Malayalam film, My Big Father is that the actor playing Jayaram's father is just two feet tall.
Guinness Pakru (Ajayakumar or Unda Pakru changed his name after he was featured in the Guinness Book of World Records as the shortest actor to play a full length adult hero in Vinayan's Atbhutha Dweepu) plays Kunjumon, a cook working in a hotel in Malappuram. He can tell the quality of dishes just from the aroma.
His only dream in life is to have a son who is not like him. His dreams come true as his son Albie (Jayaram) is a handsome six footer. By the time Albie grows up, Kunjumon has become quite a well-to-do businessman with his catering business. The father and son are very friendly and Albie decides to marry a girl, who will not laugh at the sight of his father.
The search goes on for quite a while and in between, he meets Ancy (Kaniha) in a shopping mall. She has no problems about his father and Alby marries Ancy soon. But certain things that happen later on, take the story ahead.
Kaniha is paired opposite Jayaram once again after their big hit Bhagyadevatha.
Director Mahesh P Sreenivasan has earlier directed Changathippoocha with Jayasurya, Radhika and Ramya Nambeeshan in the lead.
My Big Father has been scripted by Suresh Menon and Satheesh K Sivan, who have earlier scripted Sooryan and Boss. Vipin Mohan is the cinematographer and Alex Paul is the music director.
Produced by Time Ads International, My Big Father will release in November.