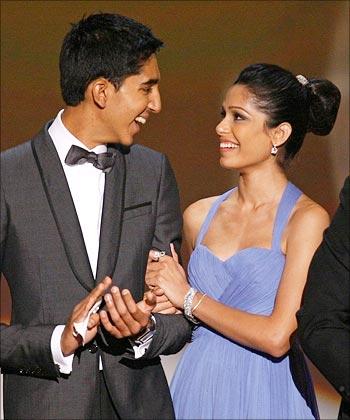 Slumdog Millionaire stars Dev Patel and Freida Pinto fuelled romance rumours once again when they were caught holding hands during the Burberry show at the London Fashion Week on Wednesday.
Pictures of Freida, 24, and Dev, 19, which appeared on the Daily Mail web site, show the two holding hands while their eyes were on the catwalk. The couple also leaned in from time to time to discuss the styles on the catwalk while being seated along a row of the world's top female celebrities like  Victoria Beckham, Gwyneth Paltrow and Emma Watson.
Freida looked stunning in a yellow dress from the Burberry Prorsum collection.
Dev is filming M Night Shyamalan's The Last Airbender in Philadelphia while Freida is being chased by casting agencies for modelling and film work.
Rumours of a relationship began shortly before Millionaire swept the board at the Oscars in February. Pinto and Patel denied they were an item but their cover was blown by co-star Anil Kapoor.
'When I meet them, I feel there is something happening,' he said, adding that the couple shared "a magical chemistry".
Image: Dev Patel and Freida Pinto at the Screen Actors Guild Awards. Photograph: Lucy Nicholson/Reuters