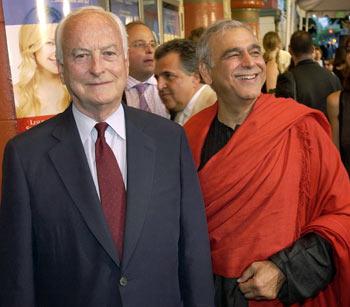 When Indian born British movie producer Ismail Merchant died in May 2005, he left behind a treasure trove of objects stored in various cities like Mumbai, New York, London and Paris.
The producer whose 40-year plus partnership with director James Ivory resulted in legendary films like The Remains of The Day, Heat and Dust and A Room With A View, was a keen collector and over the years he accumulated a substantial hoard of decorative arts, mostly influenced by his Indian heritage, reports Time Online.
These objects include ceramics, shawls, silver, furniture, and oddities such as an 18th-century tent panel embroidered with peacocks. Some of them were from Chor Bazaar in Mumbai while others were from different places like London and Russia.
So what will become of these objects? That is where Ivory comes in. The 80-year-old has decided to put the objects on sale at Christie's in London on October 7, Times Online reported.
'One only has a certain amount of room," the report cited Ivory as saying. 'There was quite an accumulation of stuff. At first I didn't know what I would do with it -- I was obliged to sell his apartments because they were part of his estate. Where would one put all this?'
The Merchant Collection will be on display from October 3.
Image: James Ivory and Ismail Merchant pose in this 2003 picture. Photograph: Lucy Nicholson/Reuters