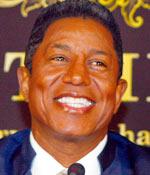 Jermaine Jackson, elder brother of the late Michael Jackson, will now collaborate with Adnan Sami to release a new album. It will be produced by T-Series.
Jermaine will come to Mumbai on October 2 for the recordings. Jermaine also plans to sing an Adnan song in the album.
Incidentally, Jermaine is close friends with Shilpa Shetty, whom he had met when the duo were in the reality television show, Big Brother. He had provided Shilpa a shoulder to cry on when she was courting controversy with the late Jade Goody.
Photograph: Thomas Peter/ Reuters