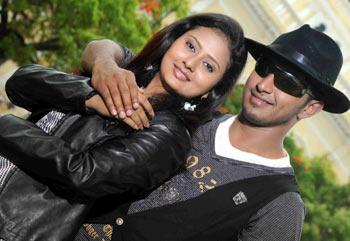 Premism, Rathnaja's new Kannada film is a love story of the young, for the young.
It stars young sensation Amoolya (of Cheluvina Chiththaara fame), Chethan Chandra and Varun in the lead.
"My film is a youth-based love story. That is why I have these three youngsters in the film. We shot the film in Belgaum, Mysore, Bangalore, and also in Chattishgarh. We did not know then that we were shooting in the Naxal infected areas of Chattishgarh. However we did not face any problems as such," Rathnaja says.
Working with Rathnaja has been something special for Amoolya who is doing her pre-university course at Mount Carmel College in Bangalore. She had to obtain permission from the college principal to shoot for the film.
"Till I complete my higher secondary studies, I have to take leave and attend shootings. I am called the 'Holidays' artist' by the press. Though the principal agreed to relieve me for shooting, she told me that I had to choose films that would bring credit to the college and to me. I think Premism is one such film," says Amoolya.
About taking up another film after Premism, she says, "It depends on the quality of the story, and permission from the college. I think I may not be able to do any film next year as I have to write the public exam next year. But this year, I can do a film if the offer is that irresistible."