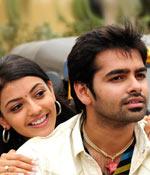 Telugu film Ganesh has 26 kids acting in it besides Ram and Kajal Aggarwal. So, one can imagine the rollicking time at the theatre. The film, particularly the first half is full of fun.
As a love story, Ganesh is largely in the mainstream style but the screenplay does have some freshness about it. Credit must be given to the debutant director Saravanan for pulling off Ganesh with so many kids, and for scripting a nice and clean film, which can be seen by the whole family.
That said, don't expect something drastically different.
Ganesh (Ram), an orphan works in a software company. But he is more into helping people -- he is either rescuing a child from a running tempo or solving a tricky issue of a friend. It's here that he meets Divya (Kajal). Ganesh offers to fall in love (rather pretend to) with Divya to help his friend. So the feigned 'dalliance' begins and just when they are in love, Divya comes to know the whole exercise is a farce. But Ganesh is truly in love with Divya and even takes the help of her friend Deepa (Poonam Kaur) to woo her back.
In the meantime, Ganesh befriends the children of the apartment and they allow him to be in their gang believing he is Superman. So our Superman does super human stunts like jumping from one building to the other, jumping from the terrace to the ground floor, flying in a balloon, fighting with a Sansetsukon et al, much to children's delight.
The story has to have a villain, and it's Mahadev (Ashish Vidyarthi) who goes about chopping off hands and fingers of people who have not repaid his loans. And one of those unfortunate people is Divya's brother's friend. But her brother is caught by the villain. Ganesh's and Mahadev's paths cross. Will the misunderstanding be cleared and the love story have a happy-ever-after ending?
Ganesh, is on the surface a love story, yet it can be categorised as a children's film and a family entertainer too. The bunch of children behave like children though they command Ganesh about. It's quite heart warming to see a tale with kids. It's quite a delight seeing them mouth dialogues and make Ganesh dance to their tune and do superhuman feats. Ganesh also has a great time in their company. The first half provides wholesome entertainment. The build up to the love story is interesting -- especially when Ganesh wants Divya to notice him and she doesn't .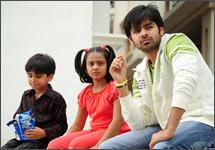 Post-interval is when the misunderstanding happens and where the movie turns a bit grim. But Yadagiri (Brahmanandam) is introduced to lighten proceedings. 
Ram is a treat to watch when he is with the kids. The joy and glee is so evident and it spreads across the screen. His charm can be seen when he is romancing and dancing with Kajal. Ram is so light-footed with such a supple body that he absolutely rocks in the dances. His dialogue delivery too is absolutely in sync with his expressions.
Kajal also looks fresh. After a colossal hit Magadheera, Kajal dons a sprightly role and proves herself at this too. The chemistry of the young pair is good on screen.
All the kids spread cheer and make us want to see them again. Ashish Vidyarthi and Brahmanandam act like they normally do. But their roles are not so well-etched in the film.
Mickey J Meyer's music sounds mellifluous on screen and some of the songs are well choreographed too. Hari Anumolu's camera captured the songs (shot abroad) particularly well. The editing by Sreekar Prasad is good though the running time of the film is almost close to three hours.
This movie harks back to the days of good ol' movies like Sound of Music! Watching Ganesh with the children and family is surely going to be fun.
Rediff Rating: