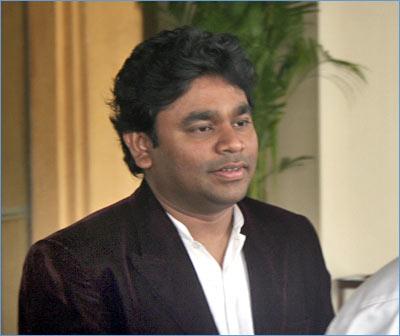 It was only a matter of time for ace maestro A R Rahman to get calls from Hollywood producers after his work in Slumdog Millionaire fetched him two Oscars.
The musician has composed the soundtrack for an upcoming Hollywood romantic comedy Couples Retreat.
Directed by Emmy nominated Peter Billingsly (The Sacred Fire), and releasing on October 9, the movie is about four couples who go to a tropical island for vacation.
Shot in Tahiti and USA, it stars MTV Award winner Vince Vaughn (Wedding Crashers), Golden Globe winner Jason Bateman (Arrested Development), Golden Globe nominated Kristin Davis (Sex and the City), Malin Akerman (Watchmen) and Satellite Award winner Kristen Bell (Veronica Mars).
What makes the album even more special for Rahman is that his six-year old son Alim has sung a song in it. Alim wants to be a playback singer when he grows up and his parents are very proud of his debut performance.
You can listen to the soundtrack by going to the movie's web site.
Photograph: Rajesh Karkera