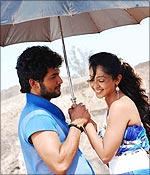 Fantastic visuals, eerie melodious music, lyrics with literary value, dialogues of Yogaraj Bhat, and Diganth-Aindrita's performances -- all these elements elevate the Kannada film Manasaare to great heights of glory. The film sustains interest for its fresh and interesting narration, though it is a bit lackadaisical in the second half. Manasaare is one of the best films that has come out in Kannada in recent times.
Yogaraj Bhat strikes again with his interesting dialogues and lyrics. A sample: "If the flowers are below our body, it is the first night, and if it is above our body, it is the last night."  Yes, some of the dialogues may remind you of his previous films, but the comedy works particularly in the first half. As the film moves to second half, suddenly the pace slackens.
As a director, Yogaraj Bhat has tried to give a new look to the film -- a look different from Mungaru Male and Galipata. His technical team of cameraman Sathya Hegde, music director Mano Murthy, script writer Pawan Kumar, art director Shashidhar Adapa and choreographers are brilliant.
The story goes like this: Mahendra is jilted by his lover who opts for a rich software engineer. A frustrated Mahendra, who is always looked down by his uncle's family, goes out with his friend for a booze party. On the road, he is mistakenly captured by the security staff of a rehabilitation centre. The irresponsible doctors even create fresh records to prove that Mahendra is suffering from mental disorder. One day Mahendra accidentally comes across Devaki, a mental patient and falls for her. He escapes with Devaki and spends three to four days with her in a godforsaken place. Love develops between the two and Devaki discloses her tragic flashback to Mahendra.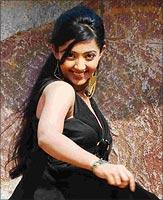 For Kannada film viewers, this story is certainly fresh.
Diganth is first class in his performance. He is greatly helped by the punching dialogues of Yogaraj Bhat. This film is certain to prove that he can be groomed as one of the best artists in the Kannada film industry.
Aindrita Ray proves that she more than a glamour doll and can show her talents, if given a good opportunity. Raju Thalikote is brilliant in comedy. Good performances by Balaji Manohar, Mithra and Ninasam Aswhath are the high points of the film.
But the real heroes of the film are Sathya Hegde, the cameraman and Mano Murthy, the music composer. Hegde goes to the deep, inaccessible corners of Madikeri, Karwar and other places to add lot of visual strength to the movie. Hats off to Mano Murthy for his superb music.
Manasaare is a must-watch for all Kannada film viewers who are tired of watching a series of remakes and eagerly waiting for original stories.
Rediff Rating: