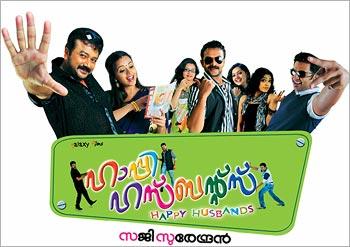 Director Saji Surendran created quite a storm with the success of his debut Malayalam film Ivar Vivahitharayal. He is now all set to repeat the winning streak with the next one, Happy Husbands, the shooting of which will begin on October 1.
The movie is a laugh riot about three happily married couples and a sizzling siren, who comes into their lives!
Jayaram, Indrajith, Jayasurya, Bhavana, Rima Kallingal, Samvrutha Sunil and Vandana play the main leads in this star studded film.
Mukundan Menon (Jayaram) runs a magazine called Kerala Today. He is a normal husband who loves his wife Krishnendu (Bhavana) a lot, but she is too possessive about him. She thinks he is not very expressive about his feelings, and is always worried that he would one day fall for some other beautiful girl.
Rahul (Indrajith) is just the opposite. He is extremely romantic and never comes home without some cute gifts for his wife, Shreya (Samvrutha). But she doesn't know that her darling hubby is dying to flirt with every woman that he sees, behind her back.
John Mathai (Jayasurya), is a photographer in Mukundan's publication. He was not too keen to get married until he met Sereena (Vandana).
It is into the lives of these three couples that a bar singer, Diana (Rima), arrives and things take some interesting turns.
"It's a kind of a cat and mouse game which we have seen in some of the earlier films, but here we are giving it a different treatment," says the director.
Happy Husbands is produced by Milan Jaleel under the banner of Galaxy Films. Krishna Poojappura is the scenarist, Anil Nair wields the camera and M Jayachandran is the music director. The shooting will be completed in one schedule in Kochi and Malaysia.