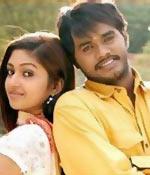 There are distinct advantages to watching a Tamil film like SS Moviemakers's Suriyan Satta Kalloori (Suriyan law College), directed by Pawan, with its ridiculously simple theme, one-dimensional characters and clichéd performances. The cast and crew leave you in no doubt about what to expect.

It's been quite some time since you saw what was once a staple of Tamil cinema: college life, where students rarely attended classes, fall in love and live happily ever after.

Well, this movie tries to take itself seriously, which is why it is set against the Government Law College. With its history of caste differences and violence, it is the perfect backdrop for our hero, Surya Narayanan (newcomer Kajni).

He is shown as the golden-hearted, larger-than-life hero of the 1970s and 1980s -- he fights goons single-handedly, has an SFX team doing magic with his silhouettes and crashes through everything.

He is the Student Council Chairman; is kind, thoughtful, loving, brilliant, does social service, wins recognition for changing the lives of his neighbours and constitutes an award for the best student of the year at the national level. He even goes to Delhi to submit a proposal to that effect, and it gets accepted immediately (!).

In addition to all of this, he also finds time to honour his teachers (Radha Ravi and M S Bhaskar) by dancing Bharathanatyam on Teacher's Day, donate blood at the drop of a hat and fall in love with the most irritating girl in campus, Mahalakshmi (Mithra). 

Mahalakshmi speaks with a lisp, drips with sweetness and gets on your nerves so much that you wonder how anyone -- including the hero -- can stand it. But she donates blood too, so she's a good girl as well. 

Naturally, such a great guy must have nemesis, and there is one: Selva (Pavan), who suddenly decides that he doesn't want to be a goon anymore, but become a law student for no apparent reason.

And here, unwittingly, happen some of the better scenes of the movie: Selva is good-looking and has loads of attitude, enough that you wish that he was the hero, instead of the supremely boring Suriyan. He mocks teachers, dresses up like a girl and is such a cool guy that you end up rooting for him.

Selva and Suriyan naturally end up brawling but the convoluted screenplay tries desperately to throw another twist at us. But by then, you have reached the end of your endurance.

Debutant Kajni has neither the presence nor the acting skills required to carry a leading part. Perhaps experience will supply him with those. Barring Pavan, who packs a punch, everyone else gets on your nerves.

Deva's music is eminently forgettable, as usual.
Suriyan Satta Kalloori tries to address real problems and gives solutions but it's done in such a cheesy, clichéd fashion, with wooden acting and special effects that the message itself is hopelessly lost. Watch the film only if you really want to visit the theatres.

Rediff Rating: