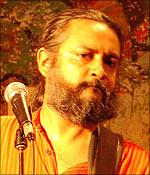 The first time I became aware of the band Indian Ocean was when their music was used in the soundtrack of Black Friday, the movie about the Mumbai riots of 1993.
I have to admit that their song Bandeh didn't do it for me. And I simply assumed, in spite of the vocal support for their music by a friend of mine who doesn't normally make recommendations in that particular art form, that all their music sounded the same.
The next time I was made aware of the band was when I learnt through Twitter and Facebook updates that Asheem Chakrabarty (tabla, vocals) was seriously ill. I found out a little later that he had passed away. So when I went to watch the press screening of a documentary about the band I knew they were 'important' but I didn't know why.
From the very beginning of Leaving Home -- The Life and Music of Indian Ocean it became very apparent why this band has such an enthusiastic fan following. Here were four guys who gave up on the idea of fitting into the larger fabric of working class India so that they could make music that could be appreciated equally by the haves and have-nots. From the very early shots in this film it becomes clear that Susmit Sen, Asheem Chakravarty, Rahul Ram and Amit Kilam were blessed with a special gift. I use the past tense because I realized even as I was watching the film that I was discovering a body of work that was complete. Maybe Indian Ocean will carry on in some other avatar but with the death of one of the band's longest standing members the original incarnation of the band is gone.
The fabric of the documentary consists of interwoven strands of song performances and interviews with band members, their families and well wishers as they talk about the music, the band's origins and the meaning of their catalogue within the ethos of Indian music as a whole.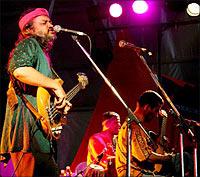 And all of it is fascinating.
To think that four guys, who came from backgrounds designed for a life of 9-to-5 labour (until retirement) could take the decision to make their music their primary occupation as well as source of income is nothing short of incredible. Their fusion of earthy lyrics (inspired from places and times, far and wide) and western instruments, their run-ins with recording labels (local and overseas), their recounting of personal tragedies and the knowledge that Asheem (whose vocals soar over several of their compositions) is no more, add a level of poignancy to this film that far surpasses most of Bollywood's offerings in any given year.
Try and watch Leaving Home – The Life and Music of Indian Ocean even though it certain to enjoy only a limited engagement on the big screen. It will rejuvenate you and perhaps even remind you of a dream or two that you allowed yourself to forget because more pressing realities made demands on your time. Watching four regular guys from Delhi find joy and actualization in following their dreams is perhaps what all of us need to shake us out of our stupor.
For that alone I heartily recommend that you go watch this film.
Rediff Rating: