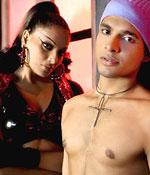 Parents who force their own lofty ambitions on little kids is not a new theme for Bollywood. As recently as last year there was Zoya Akhtar's Luck By Chance where Dimple Kapadia hints at a traumatic childhood spent on the sets and all the accompanying exploitation which accompanied it. But Pankh isn't just about kids being exploited at the hands of their avaricious parents. There aren't too many child artists in the industry. So a producer sometimes casts a boy in a girl's role or vice versa. The film is successful and the phenomenon keeps getting repeated over again. And as we see in the case of Pankh with disastrous consequences!
Jerry (Maradona Rebello) is one such artist who attained superstardom as a child playing Baby Kusum. His mother Lilette Dubey is the driving force in his life. Jerry's father resists but his protests make no impact on Jerry's super-ambitious mom. So Jerry steps out of his house (situated in a run down location) to the taunts and jeers of the neighborhood kids. On the sets producers and directors indulge in acts of indecent petting and fondling. The child is scared, confused and unhappy. But his mother simply ignores his state of mind. He's even won a national award for his performance.
As he turns into an adolescent, his mother is happy to sit back and wait. She's confident her son has what it takes to be a superhero. Destined to grow up lonely and friendless all he has for company is an imaginary friend Nandini (Bipasha Basu) and his pet turtles. When he isn't conversing with them he indulges in every possible form of substance abuse. Till one day his mom feels the timing is right and she forces Jerry to accompany her to the sets.
Most of the film has been shot indoors either in the studio or in the confines of Jerry's house. The studio isn't a happy place either. It's been used effectively to reflect the anguish and the turmoil in Jerry's mind.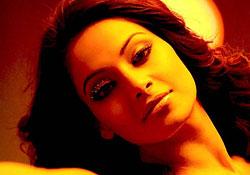 The film suffers from one malaise common to most first time directors. He tries to explore too many sub-themes simultaneously which sometimes confuses the viewer. Biblical references, the oedipal complex, a delusional superhero; it's all there.
Yet it is to the director's credit that the film has been scripted and shot without caring an iota about the the commercial prospects. If it had been made in English the film would at least have brought in a niche audience. But by sticking to Hindi the director effectively captures a world where abnormality is the reality. And people who inhabit this world long enough don't stand a chance of escaping either. Even the humble cook who has been serving anda-pav on the sets for a decade has turned psychotic.
The film is heavy and the lighter moments are few and far between. Mahesh Manjrekar is superb and had the audience in splits. If his directorial ventures don't meet with much success this director has an alternate profession waiting for him. First timer Maradona Rebello has managed to pull off a tricky role with ease and élan. He could have fared better in certain scenes but at least he doesn't ham it up. Bipasha performs little item numbers but thankfully they don't look forced as do most item numbers these days.
But in case you feel this is a film which would make perfect weekend viewing think again. Pankh is really not a film for the feeble. There is no escape from Jerry's pain. The director sets out to shock, scandalise, repulse and disgust you. If you are prepared for this then take a chance. Don't say we didn't warn you...
For the rest there's always IPL.
Rediff Rating: