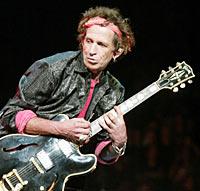 He is one of rock and roll's best known hell raisers, but Rolling Stones guitarist Keith Richards has a penchant for books and spends his free time cataloguing and reading.
Fans eager to hear about Richard's debaucherous excesses in his upcoming autobiography may be a little disappointed, as he is set to reveal a lesser known, calmer side to himself in the tome, reported Daily Mail online.
He reportedly received an advance of 4.8 million pounds from publishers in the hope that he would open up about his most infamous moments, including his numerous drug busts and an incident when he underwent brain surgery after he fell out of a coconut tree.
But the guitarist is a bookworm who takes great pride in developing libraries inside his homes in Sussex and Connecticut. Sources in the publishing world who are familiar with the contents of his memoirs, claim he admits to once considering professional training to manage his vast collection of books.
The 66-year-old has started painstakingly arranging copies of rare books about the history of early American rock and the Second World War using libraries standard Dewey Decimal classification system.
In his autobiography, which is due out in October, Richards talks about how he developed a love of reading whilst growing up in the suburbs of London following the Second World War and before discovering music.