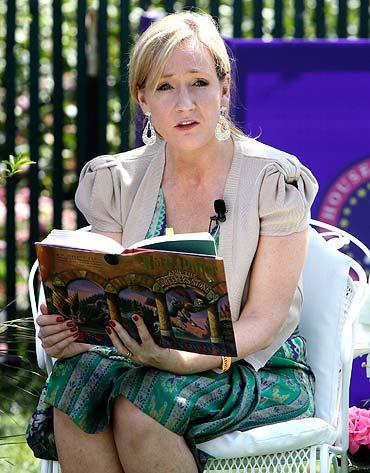 The annual White House Easter Egg Roll has become an iconic cultural event in America.
On the grassy green lawn at America's most famous address -- 1600 Pennsylvania Avenue -- swarms of children have the opportunity to interact with the First Family.
This year's event, held April 5, was no different, and featured a very special guest for all the kids -- Harry Potter author JK Rowling!
The creator of the world's most beloved and most profitable boy wizard was at the White House to read from her book Harry Potter and the Sorcerer's Stone.
Afterwards, she took some time to answer questions.
First, everyone wanted to know if and when Harry would make a return. According to JK, she'll probably revisit Potter's magic world in about 10 years.
She also revealed that her favourite characters from the books, aside from the main trio, are Hagrid, Dumbledore, Lupin and Snape. Deathly Hallows is her favourite book in the series, she added.
The author, the world's richest, also said that she's busy at work writing something new, but wouldn't reveal too much. She did mention that something of hers would be released in the 'not too distant future', reports said.
Earlier, the children had the Dr Seuss classic Green Eggs and Ham read to them by none other than President Obama and his wife Michelle.
Some of the attendees were rather famous themselves. Spotted was Hollywood actress Reese Witherspoon, who brought her two children to participate in the festivities.
Photograph: Larry Downing/ Reuters