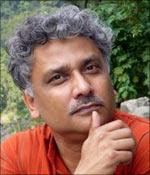 The unlikely romance of The Japanese Wife has made it to celluloid, but it is history, and stories around history that really excites Kunal Basu.
It is not peak summer yet, but the mid-morning sun is already uncomfortable. The flowers in the Lodhi Garden lawns are wilting, but dressed in a full-sleeved black linen shirt and blue jeans, Kunal Basu shows no obvious sign of discomfort.
With The Japanese Wife, Aparna Sen's film based on his short story, releasing on Firday, this is Basu's moment in the sun.
Of course, with four well-received books in the last seven years, Basu is no stranger to public interest -- his website, remarkably easy to negotiate and comprehensive, proof of the many queries his agent gets from journalists for "photographs, reviews, quotes, etc."
But the film adaptation has fuelled interest in The Japanese Wife, taking it and Basu to an audience, in India at least, far wider than that which reads English language fiction.
Lodhi Gardens is a favourite haunt, and for someone who's lived abroad for 32 years now -- Basu left India in 1978 to study in the US, taught there and in Canada for many years and now lives in Oxford, where he teaches marketing at the Said Business School -- he is remarkably familiar with its 15th-century ruins.
"This used to be a serai," he points to the Bara Gumbad that we've decided will be the venue for the interview. "You can sense a whole lot of weary men and their animals who've crossed the Khyber Pass and come through the hot scorching desert to finally find a resting place."
This is Basu, the writer of historical fiction, the novelist who so evocatively brought history alive in his first two books -- The Opium Clerk, centred around the 19th-century opium trade in Kolkata, and The Miniaturist, which went back to Akbar's court in the 16th century.
His next, Yellow Emperor's Cure, which will hit the market in 2011, too, falls under the same broad rubric, being the story of a 19th century Portuguese doctor who goes to China to find a cure for syphillis.
"I am a history buff," Basu says, "and Delhi captures my imagination in many ways." It's one of the two cities he visits most often in India -- the other being Kolkata, where he grew up and where his mother, 87-year-old Chhabi Basu, a feminist writer and activist, still lives.
Basu's is a political family -- his father Sunil Kumar Basu was one of the founder members of the Communist Party of India, his great-grandfather Bhupen Bose was a freedom fighter and president of the Congress and Basu himself participated in left student politics as president of the Engineering Students' Union at Jadavpur University during the turbulent '70s.
"It was full of dreams," he says of his brush with active politics, "and didn't have much to do with power."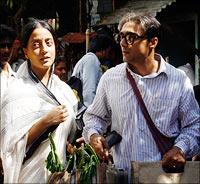 Perhaps, he now conjectures, it was all the jatras (a kind of folk theatre) he saw as a young boy, plays about Shah Jahan, Aurangzeb and Sher Shah Suri that "infected" him with "the bug of history".
"It was Bollywood enacted in front of you, stories of love, betrayal, jealousy, of brother against brother, and son against father."
Cinema, and its sister art theatre, have always attracted Basu. As a boy, Basu acted in two Mrinal Sen films; besides he also wrote the screenplay of The Magic Loom, a documentary on the Baluchari sari.
Indeed, Basu's narrative mode is very cinematic -- building character and establishing mood by aggregating visual cues. "I think visually," he says.
Intimacies, the other project he's taken on recently, also revolves around a visual art -- photography. Basu will be writing the text for a book of photographs, a compilation of pictures by Kushal Ray of a family in Kolkata taken over 10 long years.
"I found in Ray's photographs an intimacy between the camera and its subject. The camera was around as life was going on -- nothing was staged, nothing was orchestrated," says Basu.
But even here, it's not the usual text accompanying visuals found in art books that he will provide. "I would like to write the text in fictional terms, the story of people of different generations staying in an old house."
"I have a chemical imbalance in my head -- I constantly think of stories... Daydreaming is a constant aspect of my imagination," Basu confesses. It's a facet also of his academic research, which he broadly explains as an enquiry into how "enterprise for creating personal wealth for shareholders fits in with the overall social activity".
Are they at odds or "is it possible to think of an alignment in the 21st century of a kind not seen before?"
Here too, Basu is a dreamer, a romantic, looking not at what there is, but at what can be.