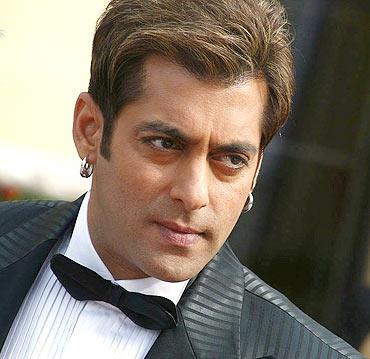 A handicapped woman, who had dragged Salman Khan and producer of Hindi film Veer to Bombay High Court on charges of exploiting her photograph with the actor for the film's publicity, on Thursday withdrew her petition after a bench said that it was inclined to dismiss it.
Phoolbanoo Bakshi Ilahi withdrew the petition as Justice D B Bhosale and Justice A R Joshi said that they would not issue a direction in a writ petition on this issue.
The bench asked her to either file a private criminal complaint before a Magistrate or a civil suit for damages and injunction against publication of photograph in a newspaper.
Alleging defamation, Phoolbanoo had sought damages of Rs 25 lakh from Salman and others. The Court had issued notice to police, Salman, producer Vijay Gilani, and a city tabloid.
Phoolbanoo contended that she was Salman's fan and had met him in Film city in April last year with her mother and sister. She claimed that Salman himself had asked his own photographer to click their picture. She asked Salman not to sell the photograph to anyone as she was a veil-wearing woman.
But in December, she saw the photographs in an English eveninger, alongwith a report which said that the actor had given her Rs one lakh, out of compassion. Phoolbanoo said this was totally false and claimed that because of the photograph and the report, she had to face humiliation.
She said she had approached V P Road police station, but police only recorded a non-cognisable complaint and refused to lodge an FIR for defamation.