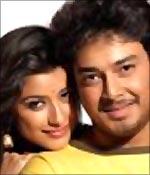 The Telugu film Mouna Ragam (not to be confused with Mani Ratnam's Tamil classic Mouna Ragam) directed by newcomer Vijay Balaji with Tanish and Madhurima in the lead, is yet another love story.
It's one of those yarns which has been seen on celluloid before but Balaji makes an attempt to make it seem fresh which it definitely is not.
Love stories have to have the romance, sentiment and exuberance in the right proportion to make them work even if they are fictional or with a touch of realism. It's here that director Balaji just re-churns the hackneyed formula and delivers the routine coupled with some not so competent acting.
Chandu (Tanish) and Kaveri (Suhasini) are cousins. When their parents die Chandu takes on the onus of looking after Kaveri and getting her educated while he does everything -- from singing to a labourer's job. He secretly wishes to marry Kaveri. In the meanwhile, Sandhya (Madhurima) enters his life. However Kaveri walks out on him and marries a rich boy. A heartbroken Chandu is about to end his life on the railway track but is saved in the nick of time by Sandhya.
So the story changes track a bit. Sandhya has a past too which she shares with Chandu where she is dumped by her lover when her father loses all his property. Together they rebuild their lives. Both motivate each other. Chandu sets up a tiffin centre at her behest (which later becomes a restaurant), while Sandhya completes her automobile engineering on Chandu's insistence. Then Sandhya goes abroad to pursue an MBA as her aim is to make a scooter for Rs 20,000 which is affordable to all. While coming back, she walks with Gautham her ex-lover.
One can guess the rest of the story. The plot is as old as it can be. And thoroughly predictable and humdrum too. The second half is a tad better than the first though. In such stories performances by senior/seasoned actors can elevate and enhance the film. Unfortunately that does not happen here.
Tanish and Madhurima do not have the required depth to portray the required emotions and could have certainly done better. The whole story is set in a locality filled with characters and their incessant interference in the life of Chandu and later Sandhya.
One song shot in Golkonda fort (where Chandu expresses his angst when he sees Kaveri marrying someone) has been filmed well. Otherwise there's nothing much to talk about the technical aspects. Mouna Ragam, named after the original classic, is nowhere near the classic. It's a family film no doubt and sans item numbers and vulgarity but it is a half-baked hot-potch and rather insipid fare.
Rediff Rating: