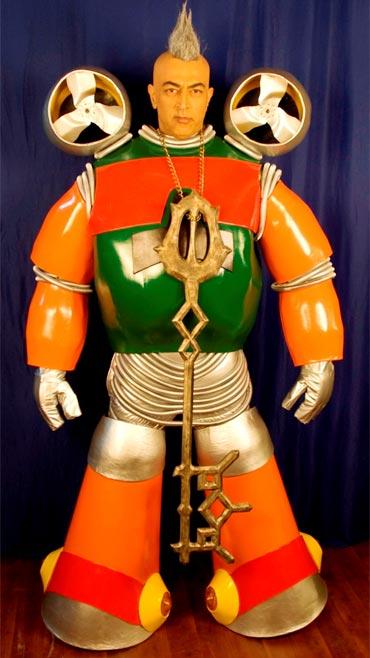 One has seen Vindu Dara Singh in many avatars, ranging from Lord Hanuman to the winner of Bigg Boss but no one expected the well-built man to play a tiny gaming character.
In the second level of Pepsi The Game that breaks on TV on April 8, the tall and muscular Vindu will don a never seen before look... that of a 1-foot tall gaming character -- Funk-Key!
Vindu aka Funk-Key will pose the second challenge to Youngistaan's heartthrob, Ranbir Kapoor.
In the first level of Pepsi The Game, Ranbir gets stuck under water and in the second level, Sanjay Dutt -- the Game Master sends his under-sized champ, Funk-Key to stop Ranbir from getting closer to his Pepsi.
While Ranbir doesn't find tiny Funk-Key a threat initially, wait and watch what happens when hundreds of Funk-Keys appear in front of him.
Speaking about his look in Pepsi The Game Level 2 and the shooting experience, Vindu said, "When Pepsi guys approached me with the concept and a sketch of the look, I asked them if they're making the Indian version of Star Wars! I had to wear a funky orange, silver and green costume, which was quite heavy and I had to fly wearing the same in one of the sequences using harness... so, it was tough but lots of fun".
Sources reveal that it was Vindu who named his character Funk-Key as he found the look extremely funky.