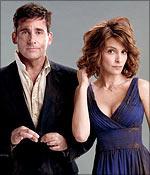 They are individually the leadings lights of comedy on American television. He has enjoyed a slightly higher profile big screen career than her but this is by no means to say that Tina Fey is a lesser star than Steve Carell (especially in America).
So naturally, a comedy starring the two, as a stuck-in-a-rut married couple whose scheduled evening away from the kids and household duties turns into an unexpected adventure, promises to be a boatload of fun. And fun it most certainly is.
When an impulsive action by Phil Foster (Carell) helps his wife Claire (Fey) and him secure a plum table at a hip new restaurant in Manhattan they think they are in for the night of their life. Little do they know that their night will be unlike any they have ever experienced before.
A simple case of mistaken identity quickly turns into a whirlwind of misadventure that involves car chases, breaking-and-entering, interactions with a hunky ex-client (hers) who happens to have access to some cool gadgets, a hot woman, some fast cars and much much more.
It is all a little ridiculous and it is all fantastical wish fulfilment for married couples around the world who wish their lives weren't quite so predictable and boring.
The real pay off in this film is watching the two likable leads go up against all these challenges they were never equipped to deal with. He is no Brad Pitt and she is no Angelina Jolie and that is a good thing.
Carell and Fey do a better job of making us think that they might be a real couple, with cute kids and less-than-satisfying jobs. They successfully sell the idea of a couple who doesn't quite have time for each other because they are so busy being there for every other aspect of their lives.
Though the movie features a few diverting cameos by famous people, as well as actors you will recognise from television shows (or other movies), they don't warrant a mention in this review. Because really, this movie is about Tina Fey and Steve Carell. They play their characters as people who don't hate each other, who aren't looking for a way out and who really just wish there was a little more excitement and a little less routine in their lives. I suppose we can all identify with that on some level. Who doesn't dream of a life a little less ordinary, right?
It is how they deal with the conundrum they find themselves faced with that makes this movie enjoyable. Granted, most of the act is familiar and even though it runs for less than ninety minutes it sometimes feels like a longer movie.
Though they traffic in the comedy of embarrassment, Fey and Carell handle it so well that you will be rooting for them and laughing at the situation rather than at the characters in the situation.
This is a movie to watch with that special someone, especially if you've been together for a while. Who knows, maybe they will make you feel better about your own situation. Or at the very least, they will leave you with a smile.
Rediff Rating: