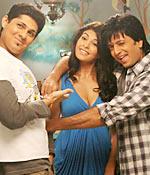 In two days, a girl from Venus descends on Earth in a sad-looking spaceship to study love. But isn't Venus supposed to be the planet of all things romance, you ask? Milap Zaveri's Jaane Kahan Se Aayi Hai, however, doesn't feel the need to explain the irony.
Feel free to draw your own sub-text. Like maybe things got way too mechanical up there? Or perhaps they felt a need to introduce a science-of-love program along the lines of Yoga? Yeah, let your imagination travel to obnoxious extremes. This is a fantasy, after all.
And so in two days, this smiley-faced alien (Jacqueline Fernandez) displays a month's wardrobe, learns to speak Hindi, quote Dilwale Dulhania Le Jayenge, make the country's leading superstar (Ruslaan Mumtaz, looks too rookie to pass off for a megastar but lends warmth in his Prince Charming skin) and his assistant director (Riteish Deshmukh) to fall in love with her, enjoy strip-porn videos and attend two high-profile New Year parties.
What's funny though how our contrived story-telling doesn't even spare an extraterrestrial? At the end of the day, the hero's idea of a perfect date has to be trips to places of worship and the skimpily-clad Venusian will somehow find a way to fit into the Bhartiya naari prototype. And so from skimpy silver boy shorts to shiny silk kanjeevarams it is.
The only way you can mildly amuse yourself with this sham is a) Do not ask questions. b) Do not think. c) Ignore the stereotypes (a loud Gujju middle-aged couple, gay jokes).
Considering, the film is set against the backdrop of the Hindi film industry; Jaane Kahan Se Aayi Hai had a lot of opportunity to work some gags and comical situations around the topsy-turvy world of show-business.
It does exploit this potential in the beginning with Akshay Kumar's cameo or when Riteish employs his talking-the-camera technique to narrate the bumbling episodes of his life as filmmaker Farah Khan's incognito assistant.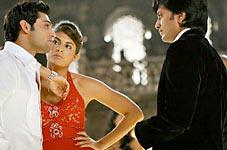 The lady can be a lot of fun as you all have witnessed in her various interviews. But there's something unnecessarily gimmicky and flimsy about her constant Shah Rukh Khan references -- 'Miss you Shah Rukh,' or 'Don't cry Shah Rukh, I'll do your next film.'
Eventually though, Jaane Kahan Se Aayi Hai sidelines earlier-demonstrated possibilities to obsessively capture Jacqueline's gooey glances, impish smile as opposed to Riteish's hard-to-buy sorry state. Dude, just two days back, this guy was completely besotted by another pretty thing (a vivacious Sonal Chauhan). Microwave feelings, anyone?
Also, innuendoes are a recurring mainstay in writer- turned-director Zaveri's brand of comedy. While he sourced sit-coms like Friends to gather some laughs in Masti, here he whips a lopsided mix of corny humor involving a sex video, which competes for screen time with the beaten- to-death track of Does-he/she-love-me confusion?
Same old worn-out sighs on new faces. Same old I-was-only-joking-about-being-in-love-with-you sympathy card. You know how it goes, right?
The only reason you're able to keep pace with the irregularities in the script's momentum is because of its young, efficient cast.
The actors give their spontaneous best even while conveying sentimentality that is flowery enough to put a greeting card to shame. Riteish has played the golden-hearted loser on more than one occasion. As usual, he lends his wide-eyed loopiness and earnest charm to a role he can sleep-walk through by now.
Vishal Malhotra, as his round-the-clock turned-on buddy too plays a part he's being essaying since Ishq Vishq. Yet, you've got to hand it to him. He's hilariously salacious and the only reason for that infrequent chuckle.
As for the alien, Ms Fernandez, handicapped by a one-dimensional role, is quite the sport. She gamely makes a fool of herself whilst aping the actions of movie stars, ranging from Sridevi's Naagin dance, Mithun Chakravarthy's Disco Dancer moves to Big B's violent headshake in Hum. Her Tara could be a keeper if only Jaane Kahan Se Aayi Hai wasn't so intent on turning her into a love-struck Barbie. Ditto for the movie.
Follow Ritesh Deshmukh and Jacqueline Fernandez
Rediff Rating: