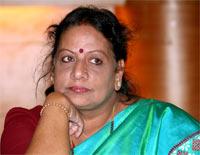 After delivering a successful TV serial like Moodala Mane, director Vaishali Kasarvalli (wife of the internationally acclaimed director, Girish Kasaravalli) is setting records with her Kannada soap Muthina Thorana which aired its 500th episode recently.
Muthina Thorana is a story of four sisters belonging to a middle class family. Kalavathi, Madhuvanthi, Purvi and Savni, daughters of Vamanrao Joshi and Anasuya, are the main protagonists. K S L Swamy, Girija Lokesh and Vimalamma Gudur are among the popular actors who star in the serial. Vaishali's children, Ananya and Apoorva, are also part of the cast.
Shruti Indira Lakshminarayana chats up the director on her feat. Excerpts:
Why did you choose to write and direct this serial?
I wanted to tell the world that it is just not male children who are capable of supporting a family but girls too. Through this serial we have shown how four daughters take the responsibility of their family.
In Kannada muthu means pearls, while thorana refers to a decoration that is put at the front doors of our homes to bring peace and prosperity. Thus, we in this serial consider daughters to be as precious as pearls and as those who ensure peace and happiness in the family. 
Who inspired these characters?
My neighbours, friends, teachers and acquaintances are my reference material. In some cases, my characters are a combination of two or more people I know.
Why do your serials usually depict North Karnataka lifestyle?
I am from Gulbarga in North Karnataka. So, I represent a culture I am more familiar with.
Are you satisfied with the way women are being portrayed in serials?
No. Female characters are generally typecast as weak human beings and not as those with strong convictions and someone who can face life boldly. I have tried to break this image through Muthina Thorana. But it's not that all women are the same. In this serial too, if there is an introvert, then there is hot headed girl too. If one is strong willed, the other is somber and soft-hearted.  
What is your take on the kind of television serials being made these days?
They were good before the entry of Balaji productions! We are losing our originality. What can you say about the same kind of saris and styles? Women in those soaps are made up 24x7. They also leave you with an impression that women spend all their time plotting against each other. It is difficult to connect with such ideas. These soaps lack nativity.
Do you watch any television programme?
Now-a-days, yes. Due to my illness, I am at home and have got into the habit of watching quite a few bad serials! I do enjoy some programmes on DD and Colors though.
How difficult is it to establish oneself as a woman director?
The initial years were definitely not easy. People would directly ask me if my husband ghost directed my serials. After a point, I started asking such people to come visit my sets to see for themselves. Also, it was easy to find out if it was Girish or me who was directing the serial as our styles are different. Anyway, thankfully my serials have done well.
In what way does your style of direction differ from Girish's?
Girish is a very serious director. His projects are very realistic. He underplays emotions while I don't. I do keep in mind the audience's viewpoint while directing.
What attracted you to this field?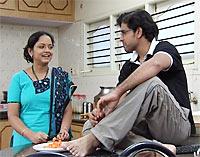 I was into theatre and gradually moved to films. I was a dubbing artiste too. Direction came next. This industry became even more inevitable after I married a person from the film industry. Now my kids are also in this field. It is good to see how serious they are about their work. My daughter Ananya acts as do my son, who also directs. In fact, I had to stop directing Muthina Thorana due to ill health and he has taken over from me. He is doing a fine job.
How different is it to direct your children?
Well, the expectations are more. There are also tendency to carry home the mood on the sets and vice versa.
Who are your role models?
B V Karanth and Girish. I like Girish's work most in Gulabi Talkies, Ghatasharadda and Kraurya. He does not make films for money. He just does what he likes. I admire his passion for films. Having said that, I can't resist from complaining that thanks to cinema, I occupy the second place in his life! Even most of our conversations centre around cinema.
Doesn't monotony set in while directing mega serials?
Yes, it gets monotonous after a point. Keeping the TRPs in check is no easy task either. But which job doesn't get to you after a while? You just need to innovate and make things interesting for yourself. 
Have you considered directing films?
Yes, I am contemplating that. The one I direct will be based on a book; a classic, in particular. I am toying with the idea of directing a play too.
Who makes for a good actor and director?
Acting and direction are not a fashion but a passion. Commitment is the key word to make it big. Money and fame will follow. Most importantly our fraternity should be socially responsible. Vulgarity should be avoided.
Catch Muthina Thorana every Monday-Friday at 9.00 pm on ETV